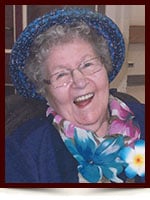 Rose Mary Morrow
A Classy lady, full of wit and compassion        
October 13, 1918 – April 2, 2015
On October 13th, 1918 in Irma, Alberta,  Rose Mary Sharkey entered a world that would soon see the end of WW1, but was in the midst of the Influenza pandemic!  Second youngest of seven other siblings, Rose grew up like most in the 30's, huddled around the radio listening to Saturday Night hockey because dad and her three brothers wouldn't miss it!
            At  22, she met a 'real handsome soldier', Jack Carswell, at a dance and married six weeks later.  Soon off to war, he returned in 1945 settling in Cranbrook, BC.  Douglas and Dennis were born in '46 and '48.  On Father's Day, 1951, during a lake picnic, Jack and a friend were last seen going out to fish in a canoe, and presumed drowned.  In 1953, Rose met Hugh Morrow (also, known as 'Jack') and settled in the Edmonton area.  Not long after, they welcomed Susan, Peggy, and 'Hughie' to their fold! However, very sadly, in 1966, Dennis succumbed to cancer, and in 1969, husband Jack also passed away. Rose always looked ahead in life, did not dwell on the troubles of the past, and would soon return to laughter. Where was God? "Oh, He's right here", she said, pointing beside her shoulder.
            She forged ahead to support her children – obtained a Realtor's license, worked at Sears, and then, entered the entrepreneurial life in the 1980's. She was involved with a boutique on Whyte Avenue, "Sincerely Yours", and later on, owned "Le Papier".  People loved to visit with her- she was interested in their lives and customers became friends.
 Rose was an avid admirer of Queen Elizabeth (and like the Queen, she seldom left home without a hat on!) Gardening was therapeutic – flowers a joy, vegetables – tolerated.  She took up painting, and was 'staging' her home before that term was created! Rose loved travel and loved the arts: she frequented the 'Citadel and Jubilee' – especially in the days when the dress code involved long gowns! Family was always a priority & she doted on the grandkids.    She lived near Edmonton's river valley as long as she could, and treasured Old Strathcona; her daughter, Susan Morrow, operated and revived  'the Princess' as a repertory theater for 15 yrs.
At 89, Rose moved to the Lodge in Castor, AB, and transferred in 2010 to higher care in Coronation.  She entertained staff with her unexpected wit, and maintained genuine concern for others; one never knew what to expect! She passed away peacefully at 96 ½ years on April 2nd.
Rose was predeceased by all her siblings, both husbands, her son Dennis, and grandson, Matthew. She leaves to remember her:  Douglas (Janice) Duncan, BC;  Susan (Stan Gent) Edmonds, WA; Peggy (Vern Hein) Castor, AB;  Hugh (Lana) Calgary;  daughter in law, Dawn Morrow (Edmonton), as well as nine grandchildren, four great grandchildren, and multiple friends & relatives.
No words can express the family's appreciation to the wonderful staff over the years, at both the Paintearth Lodge and Coronation Continuing Care facilities. You were a blessing to her, and a comfort to us, knowing you treated her, as family.
Rose's family will be having a private memorial at a later date. If so desired, memorial donations may be made in Rose's memory to the Coronation Hospital and Care Centre.  http://www.coronationhealthfoundation.com/contact-information/
Contact Information:  [wpseo_address oneline="1" show_state="0" show_email="0"]