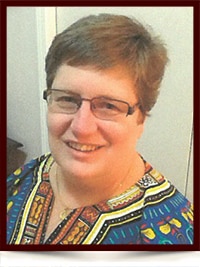 Ruth Frances Wasylenko
Sept. 5,1953 - April 16 2017 (Easter Sunday)
Born in Regina, Sk. and raised in Calgary, Ab., Ruth was the eldest of 6 children in a busy and faith-filled family. There she was nurtured in the Roman Catholic tradition that would be the touchstone of her entire life. She served as a youth minister, teacher and chaplain. Ruth pushed many edges, becoming a bus driver while a young nun and riding a Vespa. She developed interests in sports, music and wood-working. Ruth loved learning and achieved two Master's degrees. She always delighted in children and never really left behind her role as teacher. Illness, first fibromyalgia and then cancer, invited her to find her value simply in being rather than in what she could do.
Ruth was esteemed by many people, who witnessed both her love of the Gospel and her radical choices to live that Gospel. She challenged the hierarchical and patriarchal structures of the Church she loved so much by heeding the call to be ordained as a Roman Catholic Woman Priest.
She will be mourned by her soul friend, Jocelyne Roy; her sisters Joanne Mercier and Carolyn (Robert) Mercier; brothers Michael (Sharon); Eric (Louise); Tom (Teresa); numerous nephews, nieces, great nephews and nieces; many friends; members of Emmaus Inclusive Catholic Community and her sister priests. She was predeceased by her mother Loretta (Ehman) on Dec. 4,1997 and her father Alex on Jan. 20, 2005.
Celebration of Life
Friday April 21, 2017, 2:00PM
Trinity Funeral Home Chapel
10530-116 Street NW, Edmonton.
Memorial donations may be made to Doctors without Borders, an inner city ministry of your choice, or the Cross Cancer Institute.