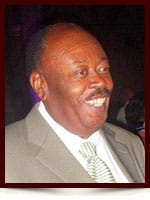 Samuel 'Ernesta' Ebenezer Husbands
Amazing father, loyal brother, and devoted uncle was called home on June 5th 2016 in Edmonton, Alberta at the age of 70.
Following his older brother Fitzroy Husbands' footsteps, Samuel joined the Royal St. Vincent and the Grenadines Police Force in the 1960s. After serving two years, Sam immigrated to Canada in 1968, settling in Montreal, Quebec. A gifted musician, Sam spent many years playing music in the Montreal entertainment industry, where some of his work was produced. By the early 1980s Sam moved to Edmonton where he settled down and started a family. In 1991, Sam returned to working in law enforcement and became a Correctional Officer with the Government of Alberta, where he served for 25 years and retired in 2014. Sam will forever be remembered for his quiet yet powerful demeanour, and his use of proverbs that helped shaped his children. He had a sense of humour that always had a way of coming out at just the right time.
Samuel leaves behind to celebrate his life: his two children Kimberly Husbands and Stephen Husbands; mother of his children Rose Ong; Sisters: Pearl Ajayi and Rosalin Currie; countless nieces and nephews and other relatives as well as dedicated friends.
We will fondly remember his laughter, his warmth, his energy, and his love for life. He worked very hard all his life, even at the very end.
Funeral Service
June 25, 2016 10:00AM
Terwillegar Community Church
1751 Towne Centre Blvd.
Edmonton, Alberta