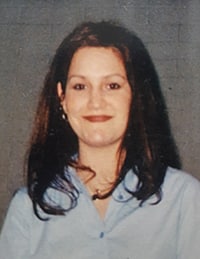 Serina Tina Noskey
On Friday, July 5, 2019, Serina Tina Noskey, mother, daughter, sister and Aunt passed away suddenly at the age of 45 years. Serina will be forever remembered by her children, Dayne and Bethany, by her mother Yvonne L'Hirondelle, and by her brother Blaine and sisters Kayla, Crystal, Courtney, and Leanne. Serina will also be forever remembered by her aunties Linda, Pauline (Allan) and Esther (Don), and uncles Danny and Roger.
She was predeceased by her sister Roxane Noskey, cousins Michael Duguay and Kyle L'Hirondelle. She will be forever missed by her numerous nieces, nephews and extended family and dear friends.
A celebration of her life will be held on Friday, July 12, at 4:00 p.m., at Sacred Heart Church. Her funeral will be held on Saturday July 13, 2019 at 10am at Sacred Heart Church and she will be interred at Holy Cross Cemetery (14611 Mark Messier Trail, Edmonton AB).