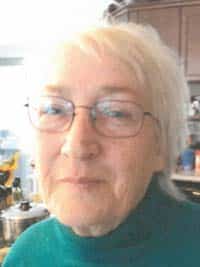 Shirley Alberta Andresen
Shirley Alberta Andresen born in Newport Wales. Passed away April 28, 2020 at the age of 76. Shirley is now in the loving arms of Jesus Christ.
Shirley was a Christian and resident of Breton from 1960 to 2020. Shirley left to mourn, her husband Roy (of 60 wonderful years), 5 children: Tracy (Jon), Roy (Marianne), Chris (Shereen), Sandra (Brent) and Michael. Grand-children: Stephanie, Andrew, Sarah, Chelsea, Wendy, Kristina, Kirsten, Kaitlyn, Britton. Great-grandchildren: Kira, Gage, Astrid, and Ansel. Sisters Dianne and Judy. As well as numerous nieces and nephews. Shirley was pre-deceased by her father Harry Nakonechny (Olga), Mother Lorraine Henderson (George), sisters Rita and Susan.
Shirley was an inspiring and kind mother, avid gardener and arborist. Shirley loved, sewing, knitting, short truck rides and dining out. Shirley loved Roy to sing "Jesus loves me" at night or while driving in the truck.
Shirley will be sadly missed by all who's hearts she touched - most of all by her husband and friend. "It was a wonderful spring day in 1960 when Shirley first touched my heart, dated then married in the fall."
Matthew 18:20 "For where two or three are gathered together in my name, there am I in the midst of them."
John 3:16 "For God so loved the world, that he gave his only begotten Son, that whosoever believeth in him should not perish, but have everlasting life."
Corinthians 5:8 "We are confident I say, willing to be absent from the body is to be present with the Lord."
Romans 10:9 "That if thou shalt confess with thy mouth the Lord Jesus, and shalt believe in thine heart that God hath raised him from the dead, thou shalt be saved."
Viewing
Private Viewing Saturday, May 2 to be followed by a cremation at
Trinity Funeral Home 10530 - 116 Street Edmonton, Alberta
Memorial Service
Memorial service will be held in Breton hopefully later this summer.