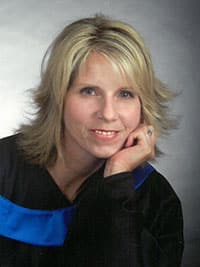 Shirley Louise Simmonds
October 1, 1967 – April 21, 2019
Shirley floated away peacefully with friends and family by her side this Easter Sunday.
She had been bravely fighting two autoimmune diseases for 25 years, with more bad health days replacing the good recently.
Her strong loving spirit was as always radiant and obvious to the people around her, but her body increasingly started to fail. She was aware that the diseases were shortening her life, but she said many times she was not afraid of death. She believed that nature had never disappointed her in life, and that she didn't expect nature to disappoint her in death.
Shirley was a perfect traveling partner and, with her husband, went to several warm destinations in the winters, a dream vacation through Europe last spring, and most recently to the Southern U.S.A.
Shirley loved exploring the city and attending festivals and finding little gem restaurants. She had fun golfing and lawn bowling and gardening. She loved cooking for friends and family with a card game after dessert! But what brought her the most joy was helping kids. As a substitute teacher, she could work on her good health days, and she always looked forward to going to a school and having a chance to make a positive difference in young peoples lives.
Shirley was a very loving and beautiful wife. She met her husband Wylie when he was 19 and she was 16 in Swift Current, Saskatchewan. They have loved and laughed together until now.
Don't be sad because its over, smile because it happened.
If you wish to donate, please consider Scleroderma Canada or Lupus Canada.
A Celebration of Shirley's life will occur on Saturday July 13, 2019