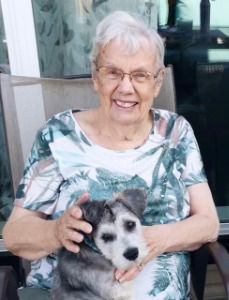 Shirley Wurtz
January 10, 1934
-
February 13, 2023
Shirley Wurtz of Edmonton Alberta passed away peacefully with her family by her side on Monday, February 13, 2023 at the age of 89 years.
Left to cherish her memory are her husband of 67 years Norman, children Dale (Linda) and Karen. Four grandchildren Richard (Danielle), Courtney (Jay), Nichol (Dennis) and Kayla (Shelby) and seven great grandchildren Skylar, Ryley, Parker, Jaxon, Emersyn, Harper-Rose and Davin-Mason.
She shared 67 years with Norman, although knowing each other for 72 years. They truly had a special relationship. After all these years they still really "liked" each other and where one was, the other was. People used to laugh when we said that, but it was true, they not only "loved" each other, they really "liked" each other and that's important! When asked what tips they could share to sustain such a long-lasting relationship and they would say, "compromise, patience, respect and a really good sense of humour"!
Mom's love for family and friends was never-ending. Family was always her focus. She was a pillar of strength when some of us didn't have the strength to put one foot in front of the other. She pushed us forward and supported us sometimes when she didn't always agree with what we were doing but she stood steadfast in her support. She was kind, generous and compassionate. She loved loyalty, honesty, and authenticity. She possessed a quick wit, a beautiful laugh, usually ending it with her famous eye roll and a quick "oh brother" or "gads". She will be truly missed by those she left behind! To be loved by her was to be truly blessed!
The family would like to thank Dr. Clark and all the Nursing staff at the General Hospital Hospice 9Y Wing for their kindness and compassion while Mom was there. You really are Angels in human form!
Cremation has taken place. At her request there will be no memorial service or funeral. A celebration of life will be planned for a later date.