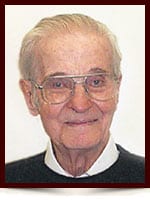 Siegfried O. W Osterwoldt
Remembrance of Siegfried Osterwoldt
Siegfried Osterwoldt passed away on 4 April 2016, as he had wished, with his devoted wife Eva beside him, at the family home in Edmonton, which he had bought 60 years ago in 1955.
Born on 8 March 1919 in Magdeburg, Germany, the city of maidens, renowned for its Gothic Cathedral, he was the son of Else and Hugo, a postmaster. His mother's love for the opera was not shared by son Siegfried, and he skipped out on some piano lessons. A smart boy, he attended the Dom Gymnasium high school, excelling in Math. Later he wished that this old style curriculum had taught him English, instead of ancient Greek and Latin. His father taught him gardening, which he loved for the rest of his life, teaching his own children to plant in straight rows using string and posts like a surveyor. Father and son also went on long hikes in the mountains, from hut to hostel, collecting metal badges on his walking stick. At age 16 and 17, he bicycled around Germany with schoolfriends like Horst Singewald, Gerhart Fromme, and Martin Thiele, who all died in the upcoming war. In those carefree pre-war years, the boys stayed in youth hostels, hitched rides on slow-moving trucks, and clambered up mountains in the Alps. One day, described as one of his happiest ever, Siegfried and friends cycled 214 kilometers to return home to Magdeburg. As our Dad, he showed his sons Frank and me much of the route during a nostalgia trip back in 1967.
Conscripted into the Wehrmacht for World War II, Siegfried's aptitude for trigonometry landed him in the artillery, where he trained new recruits and schlepped big guns, behind the front lines. During the Blitzkrieg in France, he was awarded an Iron Cross for Bravery ("second class", he emphasized). In June 1942, he wondered why his troop train was heading east; it was the secret start of the disastrous invasion of Russia. While his ill-fated comrades ended up en route to Stalingrad, he fortunately got a study leave to Berlin, and then a reposting to North Africa and Rommel's Afrika Korps. Siegfried's fine photo album of his wartime ends with a shot in the Egyptian desert, on the eve of the great and terrible battle of El Alamein, a turning point of WW II. Under fire, Siegfried jumped out one side of his jeep, losing comrades out the other side, and when dawn rose, he surrendered to the Tommies on 2 November 1942.
That was the beginning of an epic trip halfway around the world as prisoner of war: shipped with other captured German and Italian officers from Suez past the British Empire outposts of Aden, Bombay, South Africa; zigzagging across the South Atlantic to the Magellan Straits; past the glaciers of Patagonia (which Frank & Sue have seen), up the Pacific coast of Chile, via the Panama Canal (grandson David was recently there), across the Caribbean (which I visited and served with CIDA), ending up at port in Maine, USA. A train-trip took the surprised prisoners to PoW camps – Grande Ligne near Montreal and later Wainwright, Alberta -- ironically his later home province for life. An NFB film, "the Enemy Within" by director Eva Colmers in 2003, featured Siegfried and other former PoWs who returned to Canada as immigrants. In it he recounted the 'fair treatment' by Canadian guards during these years behind barbed wire, and due to the film he became friends with one of the guards Leo Hamsen. PoW mischief included a hidden radio transmitter and a homemade distillery which exploded berry hootch all over a dorm which needed to be repainted before the guards noticed. Compared to civilians and soldiers suffering in Europe, PoW prisoners had it easy. But there were hungry times too: one day Siegfried spied and left a mushroom, anticipating it to be bigger the next day, only to discover later that it had been picked by someone else in the meantime.
Siegfried used his 5 PoW years well, studying from books sent in by the International Red Cross, so that he had some qualifications to start technical college upon his uncertain return to the post-war ruins of Germany. With his native Magdeburg in the occupied Soviet sector, he sought refuge and a new start in Hamburg, where he met a fellow student, Eva Schmidt, herself a refugee from the "Free City of Danzig". She escaped on the last ship out of Danzig where the war had started 6 years earlier across the waters from her home on the waterfront of the Vistula. Yes, another story. Eva became Siegfried's sweetheart, baked the first of 66 Tortes for his birthdays, and married him in 1951. Eva's family had survived the war, and so she seemed initially reluctant about Dad's plan to leave behind the trouble and rubble of Germany to emigrate to a new country far way, one that had shown its friendly face to him, even as an enemy behind barbed wire.
In May 1954, Eva and Siegfried sailed on a freighter from Bremerhaven across the Atlantic to Montreal, and took the Canadian Pacific train across endless forests and prairie to Edmonton. With hard work and luck, jobs were got, house was bought, garden was planted, kids were born: Ralph in 1955, Frank in 1957, and Renata in 1959. The details of domestic life are like most others, but our parents added travel, camping vacations in the Rockies, Okanagan, a few times the West coast. At a favourite site in Osoyoos, I remember him showing us how to flip a pancake, which promptly flopped into the campfire to our laughter. On the way up to Marion Lake from Illicillawaet in Glacier Park, as on many other hikes, he encouraged us to breathe deeply the fresh evergreen air.
Dad was pretty straight-forward and sometimes strict. He was principled and honest, informed in his dealings by the civil service morale of his own father Hugo, a postmaster, who had spent 12 years in military service, so punctual and reliable that he had apparently once held the stirrups for Kaiser Wilhelm II to mount his horse (I digress). Here are some points of Siegfried's family life and career.
Surveyor and technologist with Alberta government. Avid stamp collector with the Edmonton club. Gardener who planted in straight lines. Wanderer who enjoyed hiking and camping in nature - especially Jasper, Okanagan, Pacific Rim, and later trips in their VW camper. Enjoyed skat and bridge with fine friends. Made berry wine and photos. With his family, he built Mom's cabin at Calling Lake. He retired as a much-respected civil servant in 1984. An engaged democrat, he volunteered his time (and kids) during elections. Talking politics was later replaced by watching the garden grow.
With Eva, Siegfried loved their 3 children and new homeland. Their and our deepest grief was the tragic loss of Renata in 1991. He visited the farm near Millet of Frank and Susan with grandkids Kate and David. He had helped out handyman Frank who built their farmhouse, where Siegfried and Eva celebrated their 50th wedding anniversary in 1991. Later he sometimes joined and supported Eva's visits to grand-daughter Cora and her Dad Malcolm at their Mannville beef farm. With Eva, he travelled again to Europe, to grandkids Hanna Renata and Hugo Max in Ottawa, and to Cuba, where they generously helped support several students.
Siegfried's life story, written 15 years ago, is detailed, often serious and amusing, and… long, like his life. He was lucky to have lived a good, full, long life. Eva says that Siegfried sometimes wondered how he had merited this honour. I think we know that her fine and regular meals of goulash and garden vegetables take much credit too. During our last visit around Easter this past month, Siegfried was eloquent in thanking Eva especially for her care and cake (another Frankfurter Kranz Torte for his 97th birthday). And at the end, in parting, he told me that while we might not always have agreed on everything, and he had made some mistakes, he had always loved us and tried his best. Fine words from a very good man, who will be remembered fondly.
Thank you Siegfried.
Written by Ralph Osterwoldt, 8-12 April 2016, based on Siegfried's own Life Story, 80 pages, written 15 years ago, 2001-2003.
 Memorial Service
April 18 2016,  2:00 PM
Trinity Funeral Home Chapel
10530 116 Street, Edmonton.
In lieu of flowers donations may be made in Siegfried's memory to the Nature Conservancy of Canada http://www.natureconservancy.ca/ or Suite 400  36 Ejlinton Avenue West  Toronto Ont M4R 1A1