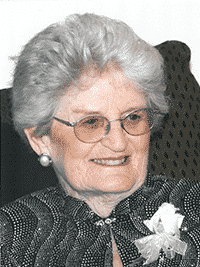 Stella Cross
October 28, 1925 - December 20, 2019
It is with sadness and heavy hearts that we announce the passing of our beloved mother, wife and grandmother, Stella Cross on December 20, 2019 at the age of 94. Stella will be lovingly remembered by her husband Ken of almost 70 years, her children Laurin (Diane), Karen (Terry), Deanna (Hank) and Leah, and her only surviving sister, Irene. She will also live forever in the hearts of her grandchildren Kristofer, Michael, Daniel (Jenelle), Marc (Candace), David (Julianna), Andrea (Brad), Adam (Brandy), Alexandra and Caitlin, and great-grandchildren Kara, Ethan, Kelsey, Mya, Isabella, Victoria, Charlotte, Joshua, Megan, Justin, James, Nathan, Cooper.
Stella was predeceased by her parents Walter and Anna Cwiklewich, brothers Godfrey and Russell, and sisters Jean and Nadia.
Stella was born in Witkow Nowy, in Ukraine (which was then Poland), in October 1925. Stella came to Canada at the age of 6 months, with her mom Anna Cwiklewich and sister Jean and brother Godfrey, to join her father, Walter Cwiklewich who was living with family in Leader Saskatchewan. The family homesteaded in several southern Alberta locations, settling in Chinook, Alberta. Stella completed highschool in Oyen, Alberta in 1945. She then went to college in Calgary to complete a Junior Elementary and Intermediate Teaching certificate (War Emergency Certificate), and was a graduate of the Spring of 1946 graduating class. Stella taught grades 1-9 in one room schoolhouses at Lovedale School, Langford School and then Peyton School, in Alberta.
Stella met her husband Ken in 1948, and they married on May 26, 1950, in Calgary. Stella and Ken had their three children Laurin, Karen and Deanna in short succession from 1951-1953. The Cross family moved to Winnipeg, Manitoba and then to Belleville, Ontario in 1959 where Ken was stationed in Trenton. During this time period, Stella worked at several jobs - Avon representative in the PMQ's in Winnipeg, sales clerk at McNabb's Women's clothing in Belleville, and working in the ad department at the Intelligencer Newspaper in Bellville. Stella later used her teaching skills again while working at the Ontario School for the Deaf, and then at the Alberta School for the Deaf after the family moved to Edmonton, Alberta in 1968. Stella and Ken's fourth child, Leah, was born in 1969. Stella worked at the Alberta School for the Deaf as an Educational Assistant for 18 years, retiring at the age of 65.
Stella loved teaching, sewing, entertaining, visiting family and friends and travelling. Stella and Ken took family road trips and camped across Canada and into the United States. They later took bus tours into the United States, Europe, Asia and the Middle East, and went on several cruises, where they visited many different countries and experienced numerous cultures and cuisine, and made new friends and acquaintances.
Stella will be deeply missed by her family and friends. Her humour, kindness and selflessness will continue to inspire those who were lucky enough to know her and be loved by her.
Celebration of Life
Viewing at 10:00 a.m.
Service at 11:00 a.m.
January 11, 2020
Highlands United Church
11305 - 64 Street,
Edmonton, AB
Memorial Donations
In lieu of flowers, please consider making donations to the Alzheimer Society of Alberta and Northwest Territories.
Phone - (780) 488-2266
Website: https://alzheimer.ca/en/ab/About-us/alberta-offices/Edmonton