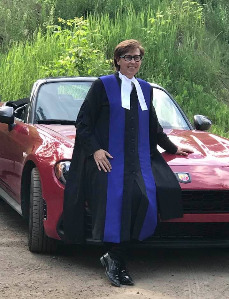 The Hon. Justice Karen E. Hewitt
February 6, 1963
-
September 17, 2023
The Honourable Justice Karen E. Hewitt passed away peacefully at the age of 60 years, after a courageous battle with a prolonged illness.
She is will always be lovingly remembered by her wife, Jacquelyn Hunt, her son, Cameron Hewitt-Hunt, her sister Terry-Dawn Hewitt, her brother-in-law Wayne J. McKenna, and her brother Duane Hewitt.
Karen led an exceptional life on both a professional and personal level. After articling with Wayne McKenna and being admitted to the Alberta Bar in 1990, Karen practiced in the civil sector with her mother, Adlynn Miskew Hewitt, Q.C., eventually helping to wind down this practice when Addie retired. Karen then decided to follow in the footsteps of her father, The Hon. Judge Norman G. Hewitt by joining the Alberta Ministry of Justice in 1992. Karen's talents were well-suited to the practice of criminal law, and she had a distinguished career of over 25 years as a Crown Prosecutor. During her career, she handled complex prosecutions and major cases including large scale organized crimes, homicides, and sensitive cases.
Karen loved the challenge of learning about emerging areas of criminal law and sharing her knowledge with others. She was a popular lecturer, generously giving of her time and expertise with legal, law enforcement, and community groups across Alberta. She also lectured as far away as Winnipeg, Halifax, and Denver.
While juggling the demands of her prosecutorial duties and her family life, Karen decided to further her education. In 2011 Karen earned the degree of Master of Laws (Criminal Law), from Osgoode Hall, York University in Toronto. Following this accomplishment, Karen published numerous works on complex criminal law topics for Canadian legal societies.
Karen's teaching skills were acknowledged when in 2012 she was appointed as a Sessional Lecturer for the University of Alberta (U of A), Faculty of Law. Three years later the Faculty of Law conferred on her the prestigious Pringle/Royal Sessional Teaching Excellence Award. Karen was later nominated by the Faculty of Law for the William Harvey Alexander Award for Excellence in Undergraduate Teaching.
That Karen was a leader in in her profession was evidenced in several ways. She served on committees and boards too numerous to detail here. Karen was honored in 2010 with the Distinguished Alumni Award, Concordia College University of Alberta. In January of 2016, she was one of only 39 lawyers who received the title of Queen's Counsel ("Q.C.") in recognition of her exceptional contributions to the legal community. Later that year, Karen was honoured with the Alberta Women in Law Leadership Award, Leadership in the Profession (Government).
One of the high points in her career came in 2018 when Karen was elected by her peers to serve as a Bencher of the Law Society of Alberta. Later that year, Karen attained her most coveted position, when on September 20, 2018, she was sworn in as a Justice of the Alberta Court of Justice. She was passionate about her judicial role and was an outstanding justice. She was a highly valued member of Edmonton Criminal Division and played an important part in the creation of Edmonton's Indigenous Court.
Karen was also actively involved with her wife, Jacqui's career as a physiotherapist. To this end, Karen served as a Sessional Lecturer for the U of A Faculty of Rehabilitation Medicine and Legal Administration. She was also appointed by the Alberta Lieutenant Governor in Council as a Public Member of the College of Physical Therapists of Alberta.
Karen was a strong advocate for children with learning disabilities, both in her personal life and publicly. In this vein she was a member of the board of the Edmonton Public Schools Inclusive Education Parental Advisory Committee. Karen also served on the Learning Disabilities Association of Alberta.
Not only did Karen excel in her professional life, but she also led a most interesting private life. She was active in sports in her younger years, playing on the U of A junior Pandas volleyball team, and playing women's club soccer. Karen loved the time she and Jacqui and Cameron spent at their farm in the Lamont, AB area, and at their second home in Ucluelet (Ukee), B.C. Karen was always busy. You would find her at the farm plowing the garden, pulling weeds, building decks, tiling floors, or designing a major artwork. At their home in Ukee, Karen would be crabbing, fishing, or hiking along the rain forest trails.
In closing, Karen will be truly missed. As the 17th century poet John Donne wrote, "No man is an island entire of itself; every man is a piece of the continent, a part of the main; if a clod be washed away by the sea, Europe is the less . . ." A truer sentiment cannot be said for Karen. When she passed, those places she lived and the people she touched are so much less. We will miss you, Karen. Be at peace.
In lieu of flowers, donations may be made to the Canadian Amyloidosis Support Network (https://amyloidosiscanada.org).
The family expresses their heart-felt thanks to the healthcare teams at the Intensive Care Unit of the Royal Alexandra Hospital, Home Hemodialysis Unit, Edmonton, and the Satellite Dialysis Unit at Port Alberni, B.C.
A Celebration of Life will be held Thursday, Sept. 28th 5:30-6:30 pm at the Zeidler Dome, Telus World of Science, 11211-142 Street NW, Edmonton, AB. Free onsite parking.