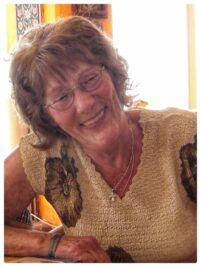 Theresa Madeleine Marois
November 16, 1941
-
July 25, 2021
On July 25, 2021 our mom, grandma, great grandma, sister, auntie, friend, and wife, Theresa Marois, left us to join the eternal embrace on the first official Feast Day for Grandparents.
Born into a beautiful family of 17 children, Theresa arrived on this earth November 16, 1941 in Viking AB to Gilbert and Frances Thompson. Fifty nine years ago, Theresa married George Marois, whom she affectionately called the King of her Heart. Together they built a family of 6 children, 32 grandchildren and 29 great grandchildren.
Theresa was a gentle, kind soul. She was a baker of bread and birthday cakes, grower of gardens, teacher of children, catechist, and a gift to us all. She will be missed.
Following the 7 pm mass at Our Lady of Mercy parish on Tuesday, August 3, there will be an all night prayer vigil. Friends and family are invited to stay, pray, remember, share, laugh, cry and celebrate the gift that Theresa was to us all.
Funeral will also be held at Our Lady of Mercy parish at 12 pm Wednesday, August 4, 2021. Burial will follow at Holy Cross cemetery.
A light luncheon will be served at Our Lady of Mercy after the burial.