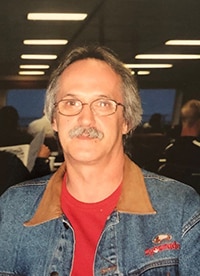 Thomas "Tom" Howard Fitchett
Thomas "Tom" Howard Fitchett, age 62 of Fort McMurray, passed away on Wednesday, May 27, 2020 from a heart attack.
Tom was born to Donald and Beatrice (née Barley) Fitchett on December 10, 1957 in Sarnia, Ontario. At the age of 22, he set out on an adventure with just the clothes on his back, including his prized jean jacket, and a few bucks in his pocket to make a life for himself out west. He settled in Fort McMurray and in 1979 he started his career with Syncrude as a power engineer. Tom welcomed "his boy" Daniel "Danny" Fitchett into the world in 1982. There could not have been a stronger love and connection between these two; they were one and the same. In 2004, he met Connie Dunphy, his best friend, his love, "his life," in 2004. Along with her came the girls (Kona, Samantha, and Courtenay) who became like daughters to him. Later came Destenay, Theoren and Ellianna who called him grandpa. Tom retired in 2013, at age 55. and vowed never to drive Hwy 63 North again! He loved retirement and spent his days relaxing and enjoying time at home with "his peanut" Kallie and Diva.
Tom lived a simple life and that was the life he wanted. He enjoyed working in the yard, going for long drives, and getting new gadgets. He was always interested in the way things worked and fixing things so when he wasn't working on a DIY project around the house, he would be watching the Discovery Channel. His main priority was looking after his family and he did everything he could to provide security and support for those he loved. Tom was the rock for all of us. He held us steady when times were hard and, boy, did we go through some hard times. He had an inner strength that held the whole family together no matter what happened. There are no words to describe how much Tom "babe" "dad" "grandpa" will be missed but his love was steadfast and this is something that we will always carry in our hearts.
Tom is survived by his loving spouse, Connie Dunphy; son, Danny (Telisha) Fitchett; step-daughters, Kona Stelfox, Samantha (Naveed) Sheikh, and Courtenay (Hasan) Badran; grandchildren Destenay, Theoren, and Ellianna; his brother Mike (Mary) Fitchett and his sister Linda Fitchett; his toy yorkies Kallie and Diva; and his beloved Cadillac.
Tom was predeceased by his father, Howard Fitchett; mother, Beatrice Fitchett; and his best friend Doug (Dougie) Barns.
A private memorial service was held on Tuesday, June 2, 2020 at 2:00pm at Trinity Funeral Home.
In lieu of flowers, memorial donations may be given to Fort McMurray United Way or the Heart and Stroke Foundation.