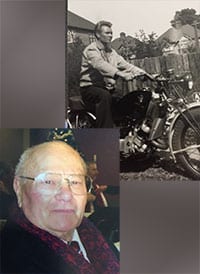 Thomas W. Turner
Thomas W. Turner was born on the 11th of July 1927 and raised in Edmonton, England. He passed away peacefully through the night on the 15th of January 2018.
He was predeceased by his parents William and Jeannette as well as his brothers Bill, Ken and John. He is survived by his sister Jean Fairbairn and her daughter Carol Fairbairn along with many other nieces and nephews who reside in England. Carol remembers Tom as a fantastic uncle who would take her to the Mayfair Coffee House when she wouldn't sleep as a toddler, and when she got older he would take her to a trendy bar for a screwdriver or two in London when he'd come to visit. Tom attended grade 3 in Edgeware and his Head Master wrote "Thomas is a promising worker who has shown a great interest in his studies and has made considerable progress. His character is excellent."
Tom fondly recalled the time growing up prior to WWII as resembling Dickens time, he spoke of the lamp lighters with top hats and horse and wagons bringing milk door to door. By WWII he was 12 years of age and became a Junior Air Raid Warden. He recalled this as an exciting time for a teen, sitting and watching the dog fights over the docks of London. Heading out to put out fires caused by the bombs. Tom was 18 when the war ended and went to work for Hadley Page working on WWII bombers and making them into cargo planes. He served in the R.A.F as an airman/Firefighter from March 1946 till June 1948 where he helped with the Berlin Airlift. His superior wrote "Ac Turner has been engaged as a fire fighter and in the 5 months that I have known him has proved to be a reliable, capable and willing worker. He is energetic and sensible person and one who understands and appreciates loyalty and responsibility." Tom rode his motorcycle through the streets of London and became a lifeguard at the local pool. In 1953 Tom became a member of the National Amateur Body-Builders association and upon leaving England in 1960 and relocating to Canada he first worked in the lumber industry as a lumberjack then got a job with Crystal Glass where he enjoyed working with stained glass, he would later make stained glass plates and coasters at the St.Albert Day Program for Seniors, so he could share them with the people he loved. By July 1966 he received his private pilots licence from the Edmonton Flying Club documenting more then 63 hours solo time. Tom moved to Grandin Village in 1972 where he stayed till the age of 89 when he moved into the Citadel Extended Care Centre in St.Albert. Tom rode motorcycles up until he was 80 years of age. He enjoyed skating for about 15 years at West Edmonton Mall with the senior skaters. Once he had his knee operation he would hold the table for his skater friends. In 1976 Tom attended NAIT while working for the City of Edmonton in the Water and Sanitation department, he retired in 1992 and lived a full life for at least 20 years. He loved his pets one dog, sky and cats of which he had many over the years his last faithful companion being Pepsi. In his later years he would take a taxi to Smitty's and later Cora's where the waitresses would know him by name. He loved nice cars owning a 1956 convertible Jaguar that he had great pride in and a convertible Mustang GT at the end of his journey. On Tuesday and Thursday were spent with his friend Bob having lunch and tending to business at hand. Wednesdays and Fridays were saved for the Day Program at the St.Albert Hospital where he never missed a day, his neighbor Burle and Dick making sure he got there and when they couldn't Ivon would help out. Sundays he would go for dinner at Ricky's, Swiss Chalet or Boston Pizza with his friend Jasmin. He will be sadly missed by all who loved and cared about him.
At Tom's request there will be no service.
   By Bob and Jasmin