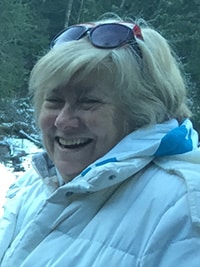 Trudie D. Thomas
Trudie D. Thomas, at the age of 64, passed away on 26 February 18, after a courageously strong battle with cancer.
She was born on 21 February 1954 to parents Bernard and Jean Erickson. Trudie spent a lot of her earlier life travelling the world. After the birth of her two children she had settled down and started her career in health care. She worked as a health care provider for over twenty years. Her love and care for her clients and her family were always put before her own needs. She was a loving mother, grandmother, daughter, sister, aunt and friend who dedicated all of her time to her family and was consistently relied upon for her patience and warming advice. Trudie was well known for her passion for dolphins, her love of antiques, yard sales and collecting.
She is survived by her two sons Wesley and William, mother Jean, grandchildren Michaila, Tyler and Josh, her five siblings; Dean, Lorna, Paul, Terry and Wendy. She will be missed dearly but not forgotten; it's hard to forget someone who gave us so much to remember. In lieu of flowers, the family is requesting donations be made to the Canadian Cancer Society in Trudie's name.
A Celebration of Trudie's Life will be held at a later date.