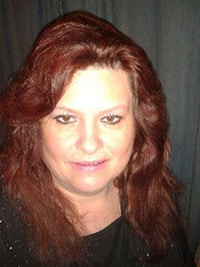 Vanessa -Lynn Mitchell
On March 25, 2018, God took our angel, Vanessa -Lynn Mitchell, back home.
Vanessa will be lovingly remembered by her beloved husband and companion, Maurice, mother Debbie Mitchell (nee Courtepatte), daughter Thalaissa, son Brandon and numerous extended family members.
She is predeceased by her father Howard Redel.
A private Celebration of Vanessa's Life will be held at a later date.
Miss Me - But Let Me Go
"When I come to the end of the road,
And the sun has set for me,
I want no tears or gloom-filled room
Why cry for a Soul set free?
Miss me a little - but not too long,
And not with your head bowed low,
Remember the love that we all shared,
Miss me - but let me go.
For this journey we all must take,
And each must go alone,
It's all part of the Master's plan
A step on the road home
When you are lonely and sick of heart
See family and friends we know,
Take time to heal, tho' we must part
Miss me - but let me go."