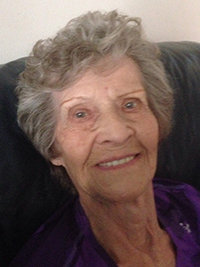 Victoria Hayes
March 5, 1932
-
June 13, 2021
It is with profound sadness that we announce that Victoria Hayes passed away on June 13, 2021.
Vi was born in Insinger District on March 5, 1932. She grew up and attended Sheho school until she moved to Rosetown when she was 16. It was there that she met Raymond Hayes whom she married on April 16, 1951. They lived in Rosetown for some time, moving around and finally settling in Saskatoon. She worked many jobs over the years and helped manage the Orange Julius in Saskatoon. Vi and Ray had 3 daughters; Donna first and then were very surprised 13 years later to have twins Wendy and Cindy.
Vi had many different hobbies but most of all she loved working in her yard and playing cards. Her yard and flowers were always one of the most beautiful with passers by often stopping to take a look and talk to her. She would spend hours working outside, even spraying and cleaning her driveway with bleach and Mr Clean so much that the neighbours started asking her if she was going to eat off of it that night. Vi enjoyed many types of card games but her favourite…and the one she excelled at was Canasta….all the holidays and family get together were spent playing Canasta and everyone wanted to be on her team. It was always a battle to see whose team would win…hers or her Grandson Mack's team…for which both of them would accuse each other of cheating and making up their own rules. Another of Vi's favourites were scratch tickets…and she was always lucky…no one seemed to win more than her.
Vi lived in Saskatoon until December of 2020 for which she moved to be closer to her daughters and grandsons.
She was predeceased by her mother and father Rose and Kost Babichuk, her brothers Raymond and Bill Babichuk, her husband Ray, her daughter Donna and her grandson Trevor Henkleman as well as numerous friends and extended family. She leaves to mourn her daughters Wendy and Cindy, son in law Pete, Len Horslen, sister in law Shirley Babichuk, sister Elsie Dmytro, friend who became family Hazel Ritchie, special daughter and son Doug and Kim Robinson, grandsons Tristan and Mack, special granddaughter Aimee McEvoy, special grandsons Chad and Kyle Robinson, granddaughter Gemma, great grandchildren Celina, Ashlyn and Joshua as well as many nieces and nephews and their families; Virginia Nelson, Sherry (Glen) Hoffman, Jason (Cindy) Babichuk, Barry (Jacquie) Babichuk, Lawrence Babichuk, Allan Babichuk, Rose Frankow and Brian (Jan) Dmytro. Also left to mourn is her fur grandchildren Mercy and Sampson whom she loved very much.
A celebration of life in her honour will be held at a future date.
In lieu of flowers a donation can be made to your favourite animal charity or the Alberta Bulldog Rescue Society in Vi's memory.