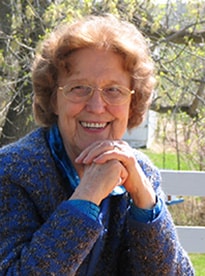 Violet Joan Hernon (Vicky)
Violet Joan Hernon (Vicky) passed away peacefully in her sleep on January 09, 2018.
She was born in Newcastle, England, to Arthur and Mary (Vincent) Dodds 91 years ago. She was married to Owen Daniel Hernon for 52 years before his death on January 4, 1999. She was predeceased by her loving son John Daniel Hernon on May 20, 2005; her brothers and sisters Mary, Arthur, Ralph, Florence, Charles, Lillian, and Alan who all resided in the old country (UK). She was Mother to son Patrick and his wife Elaine, to daughter Carol and her husband Dave Malko. Grandmother to Kelly, husband Brennan, Danny, Tyler and wife Sarah and Callum Malko; Great Grandmother to Owen & Finley of Australia and Cailey of Halifax.
Celebration of Life
Friday January 19 at 2:00 p.m.
Trinity Funeral Home
10530 116 Street, Edmonton