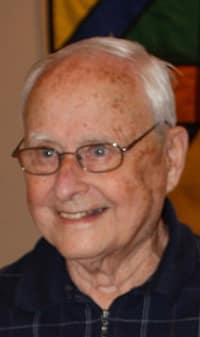 Walter Henry Cowan
April 16, 1920 - December 6, 2018
It is with broken hearts that we announce the passing of Walter Henry Cowan. Walter was a man of great integrity, kindness and compassion, and he will be deeply missed by his family and friends, who were always his number one priority. We remember Walter through his quiet, and gentle spirit, his generosity and selflessness, and as a man who loved animals, gardening (and grew amazing vegetables – especially tomatoes!) and was a talented BBQ-er. But most of all, Walter will be remembered for his love of being in community with family and friends, where he enjoyed sharing in food, laughter and quiet conversation.
Walter was born in Edmonton and grew up in Riverdale, attending Rossdale Elementary and Victoria Composite High School. He worked for over 40 years as a purchaser for Lockerbie and Hole, and was held in high esteem within this industry.
Walter leaves behind the love of his life Eva, married for 61 years, his children Donna and Joan (Michael), grandchildren Matthew, Morgan (Matthew) and Rebeccah (Jason) and great-grandchildren Henry and Charlie. He was predeceased by his parents, Thomas and Ruth Cowan and his brother, Harry Cowan.
In lieu of flowers, we know Walter would love for you to give the gift of time by getting together with the people that mean the most to you. Share food (perhaps BBQ a roast – yes even in the winter), enjoy fresh vegetables (especially tomatoes) and then sit back and enjoy. Our family will especially miss this time with him each Sunday, his quiet presence, warm sense of humour, and his unconditional love for each of us. His memory can additionally be honoured through making a donation to the Christmas charity of your choice; as Walter loved Christmas.
Memorial Service
11:00AM Monday December 17, 2018
Beverly United Church
11910 40 St NW, Edmonton