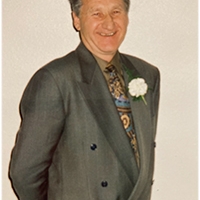 Walter William Marcinyshyn
July 19, 1933
-
September 21, 2021
It is with love and great sadness that we announce the passing of our beloved Wally at the age of 81. He was a devoted husband, father and grandfather. He is survived by his loving wife, Shirley of 62 years, brother Stan and Frank, his children Barry, Ken (Cherlyn), Patti (Elton), Dave (Linda), and grandchildren Cody, Ciara, Grace and Roman.
Wally was born in Dauphin, Manitoba, the middle of nine children, then as a young man he moved to Edmonton. One job he talked about often was his time in northern Canada where he worked on the DEW Line (Distance Early Warning Line), he then worked at Edmonton Light and Power climbing the old wooden poles. In 1962, Wally was one of 29 Communications Electrician Apprentices of the first ever class of N.A.I.T. (Northern Alberta Institute of Technology). After graduation Wally joined Edmonton Telephones where he worked until his retirement in 1992.
As a devoted, supportive father and avid hockey fan, Wally spent many hours coaching hockey teams for his three boys, driving them to hockey, driving his daughter to skating lessons and ringette or watching Saturday night NHL games. In the late 1950's Wally and a good friend drove a truck to Acapulco, Mexico, which began Wally's love for the sun and beach. He and Shirley spent many vacation enjoying Mexico with family and friends.
Wally is predeceased by his parents, Joseph and Mary, his daughter Kathleen, siblings Ann, Helen, Paul, John, Emily and Carl.
A graveside burial service will be held on Tuesday September 28, 2021 at 11:00 a.m. at St. Joachim Cemetery. All are welcome. In consideration of COVID safety a celebration of life will be held at a later date.
In lieu of flowers a donation may be make in Wally's name to the Heart and Stroke foundation or a charity of one's choice.