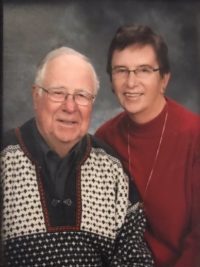 Wilma Jean Birchill
It is with great sadness the family of Wilma Jean Birchill announces her passing on Monday January 25, 2021. Wilma was born on April 20, 1931 in Cadomin, Alberta to Roy and Ella Skippen.
Wilma grew up in Calgary, Alberta. After teaching in Blackfalls, Alberta for one year she returned home and attended the University of Calgary. This is where she met her beloved husband and best friend, Andy Birchill. Wilma was an avid and passionate educator. She taught at the University of Calgary demonstration school, was a reading resource specialist, taught elementary school in both Stettler and Wainwright. She had her Bachelor of Education degree and completed her Masters in Reading while teaching full time and raising her family.
Wilma was a gifted writer penning a grade 3 social studies textbook with a companion teacher guide. Wilma also co-wrote Fun With Bridge, an illustrated easy guide on how to play bridge with her friend Marjorie Smithson. Wilma was active in the community and was a member of the Parkland Library System Board after retiring and moving to their farm in Lougheed, Alberta.
Wilma loved to garden. Her favourite time of year was spring when she would shop for annuals and plan her flower gardens. Every yard she had was improved by her green thumb. Her flower beds at the farm were a masterpiece and enjoyed by everyone who saw them.
Wilma was an accomplished piano player and passed the love of music on to her family. Once Andy learned how to play fiddle many an evening was passed with the two of them taking turns picking out fiddle tunes, old hymns and folk songs to play and learn.
Wilma was preceded in death by her husband of 66 years, Andrew Birchill who died on November 16, 2020. She is survived by her 3 children David, Adele and Anne Marie, Lori her daughter-in-law, Bruce her son-in- law, and Mark her son-in-law. Wilma is also survived by her grandchildren Elizabeth, Andrew, Cameron, David and James.
A celebration of Wilma and Andy's life will be held, restrictions allowing, this summer at their beloved farm.