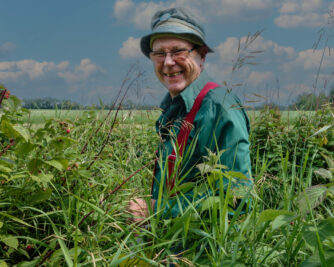 Harvey Earl Ruff
April 15, 1941
-
January 5, 2022
It deeply saddens us to share the news that our father, grandfather, and loving husband to Lorene Ruff, passed away peacefully on Wednesday, January 5, 2022, after a battle with cancer.
Faith, family, and friendship were the foundation of his life. Harvey loved a good visit, was willing to listen and learn, and he always put in a few good words too!
Harvey was born in Edmonton, Alberta to Jack and Doris (Forbes) along with younger sister, Treasa (Les Nemeth) and brother, Jack Allen (Gail). He grew up on the family farm in Thorsby, Alberta, a place that would remain dear to him throughout his life.
Harvey started his professional life in banking and transitioned into construction, where he eventually became a partner and President of D&B Realty Ltd. in Grande Prairie, Alberta. Following that opportunity, he maintained several roles in real estate and retail sales. Throughout his life, he continued to farm the land in Thorsby.
Harvey married Lorene Snyder on July 11, 1964, at the Church of God in Carstairs, Alberta and they began their life together in Grande Prairie, Alberta. Daughters, Sheryl (Bob Bowhay) and Barbara (Martin Bean), soon enriched their lives. Family adventures included spending time at the farm, camping, winter picnics, cross-country skiing, snowmobiling, and many memorable vacations with all the cousins at Fairmont Hot Springs. Harvey and Lorene also shared many adventures travelling with family and friends, with trips across Canada, to Florida, Colorado, Alaska, Hawaii, and Europe.
Harvey's grandchildren, Matthew and Jordan Bean, and Hailey and Connor Bowhay, will always remember their Poppa as the world's greatest cheerleader. He loved them deeply and was so proud of each of them and their accomplishments.
A small funeral service will be held for family and friends at the Southside Nazarene Church on
Friday, January 14, 2022, at 1:00 pm. An interment will follow at approximately 3:00 pm
at the Thorsby Cemetery.
We request that friends please register to attend the service by phoning the church office at
780.437.2217 or email office@southsidenazarene.ca
The service can be accessed by live stream. Go to Southside Church of the Nazarene Edmonton and click on Watch Live.
We are so grateful for the professional care and compassion the staff at St. Joseph's Auxiliary
Hospital offered Harvey. Their kind words and actions gave each of us courage and strength.
In lieu of flowers, it would make us happy to have you consider a gift to a charity of your choice