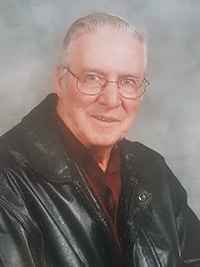 Adrien Sylva Joseph Cyr
It is with great sadness that we say goodbye our beloved Adrien Sylva Joseph Cyr, who passed away peacefully and surrounded by his family on November 30, 2018 in Edmonton, Alberta.
Adrien was born September 20, 1936 in Souris Valley, Sask., where he lived until his family moved to Radville, Sask. From there he joined the Army and started his own journey.  He traveled Europe with the Queens Own Rifle #2 Battalion regiment and when he retired from the military it lead him to Thompson, Manitoba where he met his love of his life Cecille Cyr and they had 2 children Michael and Michelle.  From there they moved to Sparwood, B.C. where he worked at the local mine then retired and moved to Calgary, Dauphin, Ashville and his final home in Edmonton close to his son, grandchildren and daughter.
Adrien was predeceased by his parents Hector and Yvonne, 2 brothers Normand & Leo, 5 bother in laws Bruce, Joe, Ray, Horst and Raymond, and sister-in-law Shirley.  He is survived by his loving wife Cecille of 49 years, children Michael, Johnna & Michelle, Jason, 2 older sons Kevin & Curtis, 5 grandchildren Aaron, Patrick, Alyssa, Katrina & Maddison, Siblings Juliette, Eva, Bob, Jeanette, Simone, Wilfred, Alberta, Jeanette, Rita, Jim, Louis, Gerry, Heather, in-laws Yvonne, Chuck, Gloria, Norman, Leonard, Mary, Marylin, and numerous nieces, nephews and friends.
Memorial Mass
1:00PM Thursday December 6, 2018
St. Theresa's Roman Catholic Parish
7508 29 Ave, Edmonton, AB