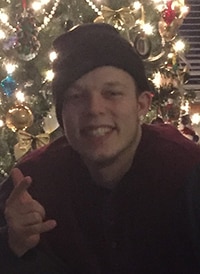 Aiden Xavier Penney
On January 27, 2020, Aiden Penney passed away at the age of 21 years.
Aiden will be lovingly remembered by mom Tori Lee Gervais and her children Wyatt and Dawson, grandparents Mike and Debbie Diakiw, uncle Keith (Nicole) Diakiw, Liam, Riley and Olivia, great-
grandmother Madge Smytaniuk, numerous relatives, friends and dad Blair Penney.
Aiden is predeceased by his sister Haley, great grandparents Bill and Lil Diakiw and Bill Smytaniuk, great uncles Randy Smytaniuk, Joseph Smytaniuk and Victor Diakiw, great aunt Amy Diakiw, great uncle Merv
Hunchak and cousin Ethan Smytaniuk.