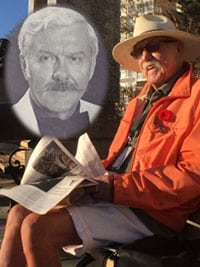 Albin James Edward Shanley
March 31, 1927 - January 31, 2021
We sadly announce the death of Albin Shanley on January 31st, 2021, the seventh of twelve children born to Jessie and Joseph Shanley of Holden, Alta.   He is survived by brother John (Gale) of Calgary, sister Emily Ogonoski of Tofield, Alta., sisters-ln-law Ruby Shanley and Anne Shanley of Edmonton.  Also by many nieces and nephews, some of whom were his Godchildren, grand nieces and nephews, many extended relatives, Chris, to whom he was an Uncle-at-Large and the many friends who gathered at the 'Bench'.
Albin was predeceased by his parents Joseph and Jessie, infant sisters Julia and Frances, as well as siblings and inlaws Ed Shanley, Mary and Peter Komarnisky, Vera and Max Zook, Jack Ogonoski, Josie and Bert Sagert, Ludvick Shanley, Olga and Peter Nebo, Ray Shanley, and Tillie Shanley.  
Albin moved to Edmonton after high school graduation and began his working days as a draftsman with an Architectural firm.  He later joined Northwestern Utilities Company where he remained until retirement.
Having an interest in the Arts, he sought out the Pro Coro Singers and had a number of roles in productions presented by Walterdale Players Theatre dating back to 1955.  His passion for theatre and music were life-long and Albin was a generous patron of the arts as well as a benefactor to many local charities.  A strikingly handsome man with an eye for a well-cut suit and a flair for the dramatic, Albin enjoyed a modelling career spanning several decades.  Many will recall his signature handlebar moustache.  
Man about town, Albin loved to entertain.  Social gatherings large or small would find him in his element, always with a joke or story to tell while he shook a martini or tossed a gourmet salad.  The 'events' at the cabin at Miquelon Lake were not to be missed.  At family Christmases in Holden Albin would make a grand entrance loaded down with packages containing food, drink and gifts for all.  For many years his faithful black lab, Dash accompanied him and dutifully took his place under the table waiting for the inevitable 'accidentally' dropped morsel.  
He travelled to many (what were then) exotic locations.  Whether he was skiing the Swiss Alps, visiting the holy city of Jerusalem or sunning himself on the beaches of Cote d'Azur, he immersed himself in the local culture of the places he visited and returned with tales of his many adventures and always a suitcase full of trinkets.
Albin was a faithful congregant of St. Joseph's Basilica where he regularly attended mass.  
Due to current Covid restrictions, a funeral mass will not be possible at this time.
Albin leaves us with his signature sign-off - and words to live by, "Be good to each other!"  May he Rest In Peace