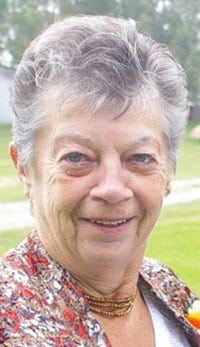 Alfreda Jane Black
October 7, 1939 - December 2, 2019
Born in Westmount, Quebec on the 7th of October 1939, (Alfreda) Jane Black was the oldest of Lee (Letitia) and Alfred Springfield Hunt and lived her young years in Montreal, Quebec. Alfred, Jane's father was in the Canadian Army when WWII started in 1939 and Jane missed her father for the first 7 years of her life as he served overseas. After the war they moved around with the military living in Fort Churchill, MB, Calgary, AB and New Brunswick.  As a child Jane enjoyed spending time in the summer with her grandfather Jesse Hunt in Montreal.
She married Ben Haight and they a daughter Cathy. While Ben served in the military they spent some time in Germany. After her divorce from Ben she moved back to Montreal for a short time.
Jane later moved to Calgary where she met and married Stanley Black.  After their marriage on November 28, 1964, she and Stan lived in the Water Valley area where they farmed, raising pigs and some horses.  Jane and Stan had two daughters, Janet and Karen.  In around 1973 they purchased a farm in the USONA, Ferrybank area near Ponoka, AB, where they had many horses with a mixed cattle herd.  This farm was where they they raised their family along with their niece Jody.  The USONA area was a wonderful place with great friends all around them.
Jane worked for many years in Ponoka at the Value Drug Mart.  She enjoyed riding horses, and being on the farm, gardening, playing cards with the neighbours and going to dances.  She loved to watch her daughters Janet, Karen and her niece Jody show their horses, in many disciplines. This passion continued with her grandkids, whether with horses or cattle she was there cheering them on.  Jane loved to cook, mow lawn, be in the sun and take her camper to any event that involved her family.  She was a fantastic cook and could cook for many at the drop of a hat.  Her true will to teach herself to walk again after a double bypass surgery into her legs or after back surgery was an inspiration to everyone that knew her.
Jane is lovingly remembered by brother Steve Hunt, children Cathy Stahls (Gar), Janet (Shane) Goltz, Karen (Danny) Skeels, niece Jody Ferguson, grandchildren Jason Stahls(Robyn), Raylee Black (Mark Unterschultz) Shane Black, Mackenzie Skeels and Garren Skeels, great-grandchildren Tayor, Isaiah, Wyatt Stahls and Baily Black.
She was predeceased by her parents Alfred and Lee Hunt.
She will be greatly missed.