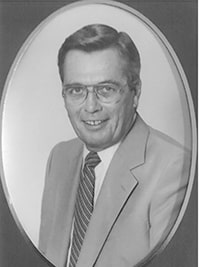 Allison Gale Hulbert
With sadness we announce the passing of Gale Hulbert on November 10, 2018.
Gale was born on June 29, 1927 in Montreal, he joined the Royal Canadian Navy Volunteer Reserves after completing high school.  He then earned a Bachelor of Commerce Degree from McGill University in 1948.
After graduation Dad moved to Calgary where he met and married Hazel McCaskie on September 22, 1950.
Mom and Dad moved to Edmonton in November of 1955, where they lived the rest of their lives.
Gale was predeceased by his wives, Hazel and Barbara, his son in law Miguel and daughter Linda.
He is survived by his children, Rick (Susan) and Nancy; Rick and Susan's children Mary (Francois and great grand daughter Leah) and Michael (Susie), son in law Norman Trueblood, step daughters Joanne and Michelle as well as their families.
Gale was a consummate salesman and manager.  He was a leader in the business forms pricing industry for many years, but more than that he was a loving father, grandfather, great grandfather and husband.
He was a great provider, and friend and was an unimpeachable role model.  He loved and was loved.  He lived a full life and will be missed.
Rest in peace Dad.
In lieu of flowers please donate to the Cross-Cancer Foundation or the Alberta Heart and Stroke Foundation.