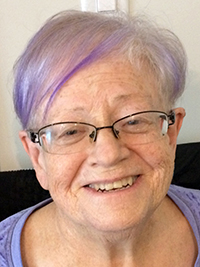 Alma Alice Tomm
Passed Away
July 28, 2022
It is with great sadness that our family announces the passing of their beloved mother, sister, and aunt, Alma Alice Tomm.  Alma passed away in Edmonton on July 28, 2022 at the age of 74.
Alma is survived by her son Brad, her daughter-in-law Leah, her brother Reginald, and her nephews Gabriel and Adam.
Alma was born September 24, 1947 in Vancouver, BC.   She was an Emergency Medical Technician with the Edmonton Ambulance Authority for over 30 years.  Prior to becoming an EMT, she was a nurse at the University of Alberta Hospital.  She received her medical training at the Northern Alberta Institute of Technology.   She also attended Norwood Elementary School, Spruce Avenue Junior High, and Victoria Composite High school in her youth.
Alma was a private individual but a very generous and caring soul.  She spent her whole professional career helping others and did the same in her personal life, putting others first.  She enjoyed cooking and social gatherings with friends and family.
The family wishes to express their gratitude to the medical staff and Royal Alexandra dialysis teams who provided care and treatment over the recent years.
Alma will be laid to rest alongside her parents, Olga and Julius in a private ceremony held by the immediate family.
In lieu of flowers, memorial donations may be made to St. John's Evangelical Lutheran Church or the Royal Alexandra Hospital Foundation (Hemodialysis-Alberta Kidney Care-North)