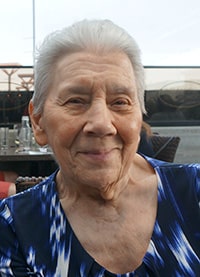 Ann Elizabeth Smidtas
With fond memories, our family announces the gentle passing of Ann Elizabeth Smidtas on January 16, 2018, at the young age of 81. Ann will forever be in our hearts, survived by her daughter, Darla (Glenn) Zuk and son, Troy (Susan) Smidtas, sister Vi Ternoway and predeceased by her sister, Adela Karpa, her soulmate, Adolfas Smidtas, and her later longtime companion, Elmer Norlen.
A Celebration of Life service will be held on Friday, January 26, 2018, at 2:00 p.m. at Trinity Funeral Home, 10530-116 Street, Edmonton. In lieu of flowers, please donate to the Second Chance Animal Rescue Society.
 Mom, You Will Never Be Forgotten….
The special memories that we shared will always bring us a smile and we so dearly wish that we could have you back for just a little while.  You were not only an amazing mother but also our mentor, dear friend and a kind person that always believed in us, someone who cherished every moment as if it was your last, and you instilled in us the importance of respecting others and you always supported us with unconditional love.
You were a 'one of a kind woman' with a spicy, kind hearted and fun loving approach to life.  You taught us to stand up for ourselves, to fight for what we believed in and to never back down.  Your outgoing personality and confident style set an example that helped define who we both are today….for this mom…. we wholeheartedly thank you!
Your beautiful voice will always echo in our thoughts and your motherly love will continue to guide us even though we can no longer be with you…even so, we both know you will always be by our sides.
The loss of a mother can never be replaced because the love of a mother can never be lost.  When someone becomes a memory….the memory becomes a treasure…one that lasts forever.  Rest in peace dearest mom…we both know that you will be soaring with the angels until we can all meet together again.