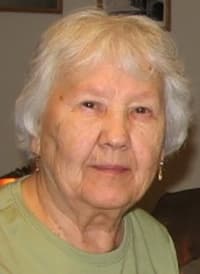 Anne Charlebois
Anne Charlebois was the daughter of Michael and Barbara Polak. She was born in Czechoslovakia and came to Canada in July 1934 with her Mother to join her Father who came first to establish a homestead in the Pioneer District near Edson. Her younger brothers Mike and Bill were born in Canada.
In her early school years Anne walked 4 miles to and from school picking up some of the neighbor children on the way. For grades 8, 9 and 10 she stayed with neighbors to go to school as the schools she attended were even a greater distance away. After grade 10 her high school teacher took her to Edmonton to assist her in enrolling into a business course at Alberta College. In Edmonton Anne worked for room and board borrowing money from her Uncle Bill in Timmins Ontario to pay for her course. On completion of training, Anne worked for Co-op Wholesale, the Edson School Division and Canadian National Railway.
Anne married Bob Charlebois on July 15, 1961. They had two sons Robert and Ken. In 1968 Bob and Anne went with their young family to Ghent Belgium where Bob assisted with the start-up and operations of a new Texaco refinery. When Bob had days off, the family enjoyed travelling to other countries in Europe. The family spent a year and a half in Belgium and treasured making good friends with other families from eastern Canada and the United States that ventured out to Belgium like themselves.
Family was everything to Anne, she stayed home to raise her young sons. Once they were in school, she completed her high school through correspondence. Anne enjoyed learning and took a number of courses at the University of Alberta and art classes in the local community.
Once the boys finished university and Bob had retired from work the couple enjoyed 20+ years in Mesa Arizona for part of each winter. They enjoyed traveling in the region and visiting with relatives and friends. In 2006 Anne and Bob moved to Beaumont where they established a number of new friendships and enjoyed activities in the local community. Sadly, on July 29th, Anne Charlebois passed away after a short battle with cancer. She will be greatly missed by her family. Memories of her shall be cherished forever. God Bless you, we love you.
Mass of Christian Burial
Saturday August 3, 2019 11:00AM
St. Vital Catholic Church
Beaumont, Alberta