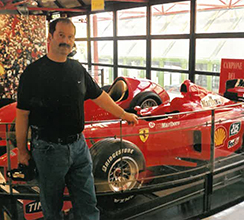 Antonio (Tony) Rizzi
December 7, 1948
-
July 14, 2021
It is with great sadness that the family of Antonio (Tony) Rizzi announce his passing on July 14th, 2021, in Edmonton, Alberta, Canada.
Tony was born in Casacalenda, Italy on December 7,1948. His family immigrated to Canada and settled in Montreal. He moved to places like Florida before calling Edmonton home.
Tony is survived by his loving wife Tammy, his beautiful daughters Lisa (Logan)Martin, Costantina (Craig) Williamson and their mother Lynn, step daughters Alesha (Curtis) Hartmann, Samantha Postestio and his stepson Jonathan Postestio. Tony is also survived by his beloved brother Gaetano (Caterina) Rizzi and sister Maria (Gordon Roberts) Rizzi. He will be greatly missed by his 9 sweet grandchildren Domenica, Josslynn, Brooke, Emma, Gabriella, Izabella, Austin, Oliver and Ava. He will be lovingly remembered by numerous nieces, nephews, great nieces, great nephews, cousins and relatives. Antonio was predeceased by his parents Luisa and Savino Rizzi and by his nephew Ernesto Rizzi.
Tony will be lovingly remembered for his love of family, F1 racing, calcio, his silly dad jokes, his love of the outdoors, taking his beloved dog Sophie for walks and for the many years that he operated Italian sports bars in little Italy as well as the many friends he made there.
Public Visitation
Wednesday July 21, 2021 9:30AM
Santa Maria Goretti Catholic Church
9110 110 Ave NW, Edmonton, AB
Mass of Christian Burial
Wednesday July 21, 2021 10:00AM
Santa Maria Goretti Catholic Church
9110 110 Ave NW, Edmonton, AB
Forever In Our Hearts