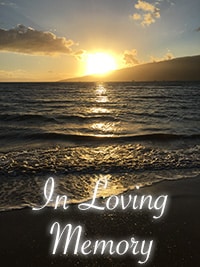 Ardella Lenora (Yourth) Olmstead
On March 30, 2020 Ardella Lenora Olmstead passed away peacefully at the age of 84.
Ardella will be lovingly remembered by her children Debra (Dan) and Rodd, grandchildren Andrew (Kerrie), Colin (Ashley), Hunter, Charlotte and Abby, great grandson Graham, and brother Vaughn Yourth, as well as close friends Anne, Fran, Kathy, Olga, Myrna and Peter.
At Ardella's request, cremation has taken place and a Celebration of her Life will be held at a later date.
In lieu of flowers, donations may be made to the Canadian Cancer Society www.cancer.ca in Ardella's name.
Family meant everything to Ardella and she will be sorely missed.