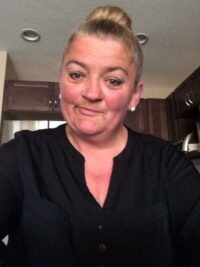 Barbara Kathleen Young (Sweet)
May 28, 1966
-
April 25, 2021
With the heaviest of hearts, we announce the passing of Barbara Kathleen Young (Sweet), of Sydney, NS, on April 25, 2021 in Edmonton, AB.
Barbara had survived her parents, William and Janet, her beloved brother, Billy, and grandchild, Angel. Barb is survived by her step-mother, sister and step-brother/step-sisters, beloved spouse (Stephen), ex-husband (David), adored children and step-children (April, Laura-Dawn & Daniel, Michael & Justine, Kayla & Steve, Stacy, Candice & Lucas), and cherished grand-children (Emilee, Mya, Lucas, Mason, Greyson, and Lenard). Barb/Kathy also left behind many dear friends whom she had built family with who will be cherishing their memories forever and remain grateful for the gift of extended family.
At the young age of 55, Barb lost her fight against heart disease, and chronic obstructive pulmonary disease. Barbara experienced a diagnosis of coronary heart disease at the age of 40, quad-bypass at 42, and further procedures to grant her more time to be with her family. When Barbara turned 50, she was diagnosed as a COPD patient. Barb had lived with tubes, machines, and medication while her body continued to fight back and fill with carbon dioxide creating a toxic environment inside her body. Trapped inside these toxins suppress oxygen throughout the body and shutting down the brain functions. Barbara suffered cardiac arrest on Friday, April 16, due to this process inside her body, and for the 4th time in 2 years was hospitalized, with hope of another comeback. Sadly, On April 25, God called his angel home and freed her from her pain and suffering with his love and forgiveness.
The family wishes to extend the nursing staff, doctors, and specialist teams at the Mazankowski Alberta Heart Institute, and the University of Alberta Hospital who have been above and beyond frontline workers. Thank you for your sacrifices and service! The compassion shown in our health care system is to be applauded and Barbara, and family thank you for your fight against her body and habits to give her time with her most cherished.
Although we are in great sorrow to have to say goodbye to Barb/Kathy far before we ever expected, we do take solace in the knowledge she is no longer suffering during this life and we find peace in knowing she will live on throughout and with all of us individuals whose lives she had touched.
Remembering her playful, joyful laugh and energy, her strong-will, perseverance, determination, strength, and resilience to overcome all that her deck of cards handed her during this life is exceptional. To all who have known Barb/Kathy, please know regardless of what, she would want you to know that self investment never stops. You are the only you that you've got. You must take care of you, too. Also, forgive.
Honouring Barbara's wishes, there will be no service held and the family will perform their private celebration of life. Cremation has taken place. In leu of flowers, donations can be made to "BREATHE the Lung Association," in her memory.