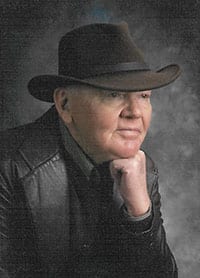 Bob (Nels August Erling) Augustson
Bob (Nels August Erling) Augustson passed away peacefully on the evening of October 28, 2020 at the age of 93. The youngest of 15 children, Bob was born in Norquay, Saskatchewan on January 5, 1927. He married Elaine Norlander on October 27, 1949 passing away 1 day after their 71 wedding anniversary. He is predeceased by his youngest daughter, Twylla.
Bob and Elaine moved from Saskatchewan to Alberta where he started working in the oil patch at a wireline company with his brother Ernie. He then worked for years for Imperial Oil before starting his own oilfield maintenance company called, appropriately, Bob's Oilfield Service. Ever the entrepreneur, he sold real estate, introduced Swedish tow trucks to Canada through his company SVENSK and then moved on to importing & selling windows through the company JX7. Bob also developed a process to use water instead of chemicals to clean the huge oil storage tanks. The process enabled the oil companies to get more product into the lines, as well as creating a huge ecological advancement. And not to be bored, Bob went back to school in his 70's and became licensed to sell GIC's.
As the saying goes, the way to one's heart is through his or her stomach and Bob would host all day come-and-go waffle open houses, hand out coffee with Bailey's to parents of trick or treating youngsters, and even opened The Sandwich Factory restaurant serving homemade soups and sandwiches. Elaine prepared the food and Bob welcomed everyone and anyone. They made a good team.
Bob thrived on making connections with people. He loved to spend time with friends and strangers alike, talking about whatever was on their minds. Many a grocery clerk or coffee barista had a brighter day because Bobby not only stopped to ask how they were doing, what they were doing, or what they were dreaming of, but earnestly cared to listen to the answer. A perfect day for him was meeting a friend for coffee and talking through almost any topic. He loved a good cup of hot, fresh, black, decaf coffee and a little something sweet. Fika, as they call it in Sweden.
He could speak enough Swedish to have a conversation with Elaine right in front of you. The smile on his face never let you know if they were saying something good, secretive, or otherwise!
Bob loved music. He re-wrote the words to Wabash Cannonball to suit any occasion and then would hand out scribbled lyrics for all to sing along at birthdays and anniversaries. His deep voice could easily be heard, and he would often tear up as he wholeheartedly sang the words to many old hymns.
He loved the Lord and wanted you to know and love Him too. Bob's greatest joy was passing along the compassion and joy in his heart. He wasn't afraid to disagree with you but never thought disagreement was a reason to stop loving you.
Bob would have wanted to thank everyone who shared his friendship and love over the years. In memory of Bob, we encourage others to consider taking Bob's lead and, in lieu of flowers, perform a random act of kindness; ask a stranger how they are and let them know you care about them and their answer, tell someone the meal they made was delicious, get to know your neighbours and appreciate your differences. Then, go meet a friend for a cup of hot, fresh, decaf coffee, and enjoy a little something sweet.
Bob will be lovingly remembered by his sisters Pauline and Ruby; his wife of 71 years, Elaine; his sons Calvin (Laurel), and David (Diane); daughter Nola (Jim); four granddaughters and six great-grandchildren.
Due to COVID restrictions, the family is hoping to have a celebration of Dad's life, in the Spring of 2021.