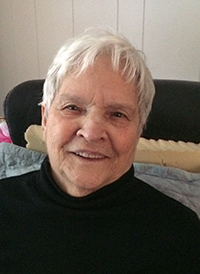 Bonnie Descoteaux
August 13, 1929
-
January 15, 2021
It is with much sadness that the family of Bonnie Lois Descoteaux announce her passing on the morning of January 15, 2021 at the age of 91. She is predeceased by her husband Maurice and her daughter Lorraine, her parents James & Bessie Willard and many of her siblings.
Born in Tupper Creek, BC on August 13, 1929 she was one in a family of thirteen children. She grew up in a simpler time to which she loved to reminisce and tell stories to her adoring grandchildren. She married Maurice and eventually settled in Grande Prairie, Alberta to raise her family.
She set an exceptional example for her six children. There was no experience worth not trying and no challenge that could not be overcome. Mom was an adventurous soul. She returned to college for her business degree while she had young children at home, at a time when such things were not commonplace. With her husband Maurice, hand in hand, they started Dakota Contracting which grew into a successful company which allowed them to semi retire to the Okanagan for a time before returning to their beloved Alberta. She started another company, Classic Cutlery, in her senior years which was also extremely rewarding. She was a natural entrepreneur.
She was an accomplished seamstress and many of us are fortunate to have one her lovely quilts to always remember her by. She loved to travel and took many trips over the years. She was never one to miss a moment of being counted "in" for fun and a new adventure. Mom had an incredible sense of humour that went along with her infectious laugh. She got her chauffeurs licence to taxi the semi trucks from yard to yard and had been known to comment that she had driven more miles in reverse than most had driven in forward, to which no one could dispute. She was fiercely independent and an incredibly strong woman. Mom was there for everything and for everyone. She was a wonderful mother and second mom to a few of her nephews and nieces.
A cancer survivor many times over, she refused to let any obstacle slow her down. Mom was an extraordinary woman who lived an amazing life. She was dedicated to her family. She never had a bad thing to say about anyone and was kind to everyone. A shining example of goodness. She will be missed by all who knew her. Always remembered, never forgotten and forever loved.
She leaves to mourn her passing her children Carol, Lois, Sherry, Brian and Denise as well as 12 grandchildren and 12 great grandchildren. Siblings Dale, Bud (Orvil) and Karen and many nephews and nieces.
God Bless you Mom.  Rest in Peace