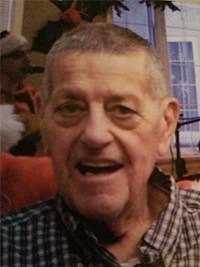 Boyd Clayton Lewis
Born June 15, 1937. Died January 27, 2020 at Edmonton Alberta.
Son of Earl and Sadie Lewis.
Brother of Elton, Arlene, and Bev.
Loving husband of Beverley Jane.
Father of Robert, Debbie, and Randy.
Beloved Grandpa of Tyler, Trent and Lotus.
A seller of cars, singer of songs, and teller of tales.
Cherished brother-in-law and uncle.
Frequent wag, and occasional scoundrel.
A sailor of seas, and consumer of life.
May you wander starboard passageways, and find loving arms.
Thanks to the staff at the Shepherd's Care Foundation and the wonderful doctors and nurses at the Royal Alex.
Memorial Donations
Donations may be made to the Alzheimer's Society of Alberta and the Northwest Territories in Boyd's name.