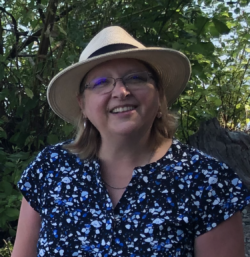 Brenda Lorraine Andres
June 16, 1964
-
May 17, 2023
It is with saddened hearts the family of Brenda Andres, of Spruce Grove, AB, announce her passing on May 17, 2023 at the age of 58 years.
Brenda was amazing.
Daughter, sister, friend, partner, co-worker and last, and best, Nana to four.
Brenda was born to Bruce and Shirley Gray June 16, 1964 in Kindersley Sask., the only girl with three older brothers. She always said her best friend was her mom.
Brenda was pursued by Garry. She was a prize worth pursuing. Brenda and Garry married May 12, 1984. Children followed. Ty, Sara and Lisa. They were added to by Sara as she married Russell and as Ty married Deanna. Brenda's favourite role in life was Nana. She will be deeply missed by the grandchildren.
Brenda worked as a Librarian and secretary in the public school system. She moved on to work at Beulah Alliance church as an Administrative Assistant. Lastly, she worked at the Town of Stony Plain in Recreational services. She was blessed to work with some amazing people.
Brenda loved shoes, loved clothes, and she loved beachcombing for rocks, especially heart shaped rocks. She had a love of keys. She loved coffee. Brenda loved organizing. Everything in its place. She would move furniture and accessories till they all fit just right. She was our everything. She knew who needed what. Never short of a gift large or small, always ready. She was beautiful and she was loved.
She gave her heart to Jesus early in life. We know she is in Heaven. She is well again. We who are left behind will never be the same. We cannot wait to see her again.
Brenda spent time at the U of A unit 4A2, Laurier House Lynnwood, and the Good Samaritan Care Center in Stony Plain. At all three places, her care was exceptional. We were blessed by people with big hearts, full of love and compassion.
Brenda is remembered by her loving husband, Garry Andres; her children: Ty and Deanna Andres, Russell and Sara Huizinga, and Lisa Andres; grandchildren: Julia and Malcolm Huizinga and Nora and Alice Andres; her father, Bruce Gray (Janet Henwood), and her siblings: Bryan and Sandra Gray, Ron Gray, and Ed Gray.
She was predeceased by her mother, Shirley Gray.
A Celebration of her Life will be held on Friday, May 26 at 1:30 pm at the Beulah Alliance Church (17504 98a Ave NW, Edmonton, AB T5T 5T8) with Pastor Allen Powles officiating and a reception to follow.