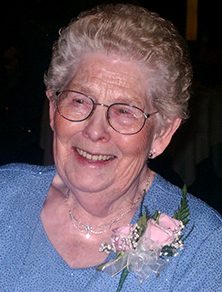 Cécile Laberge (née St. Arnault)
January 6, 1921
-
August 12, 2021
On August 12, 2021, Cécile Laberge (née St. Arnault), passed away peacefully at the age of 100 years young, at the Good Samaritan Care Home surrounded by her family.
Cécile is lovingly remembered by her 7 sons & 3 daughters and in-laws; Guy (Margaret), Claire (Tony) Tomko, Gerard (Cécile), Jules, Juliette (Henri – deceased) Charest, Denis (Myrna), Raymond (Beverly), Marcel (Kasey), Yvon (Maren), Madeleine (Guy) Amyotte; and many grandchildren, great grandchildren and great-great-grandchildren.
Her loving husband of 60 years, Raoul,  her parents Alfred & Alice (née Ouellette) St. Arnault, 1 brother, 1 grandson and 1 son-in-law predeceased Cécile. She is survived by 3 brothers and 4 sisters.
A Prayer service will be held on Thursday, August 19 the at 7 p.m. at the Beaumont Catholic Church, Beaumont, AB. A Mass of Christian Burial will be held on Friday, August 20 th at 1 p.m. at the Beaumont Catholic Church, Beaumont, AB. Father Arlan Parenteau will be the celebrant, with interment in Saint Vital Catholic Cemetery, Beaumont, AB.
In lieu of flowers, donations may be made to charity of ones choice. To send condolences online, please visit https://www.trinityfuneralhome.ca
The family expresses a special thank you to the exceptional staff at the Good Samaritan Southgate Care Home who lovingly looked after our mother with so much love, care and dignity.