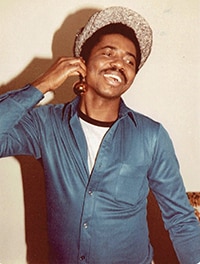 Charles Yao Fiakpui
December 25, 1949 – September 4, 2019
It is with sadness that we inform family and friends of the passing of Charles Yao Fiakpui on September 4, 2019.
Charles was born in Saviepe, Ghana on December 25, 1949 to Enos and Louise Fiakpui. From an early age Charles was a hard worker with a scholarly mind. In Ghana he attended Kpando Secondary School where he completed Form V (the highest level achievable) and received the best student award for three consecutive years. Following secondary school, he earned two degrees from the University of Cape Coast – a B.Sc. in Education as well as a B.Sc. (Hons) in Chemistry.  He came to Canada on December 29, 1978 at the age of 29 and subsequently earned his Ph.D. in Organic Chemistry from the University of Saskatchewan.
With his mastery of school systems completed, Charles moved to Edmonton with his young family to test his skills in the work world.  And of course, there too he found success. He worked as a pharmaceutical research scientist for ten years and as a result of his work in that field, he is credited in five patents and almost two-dozen publications. Later in his career Charles became a teacher (sessional lecturer and college professor), evidence that his work as a pharmaceutical scientist couldn't quell his love of the scholastic environment.
During retirement, Charles enjoyed following national and international politics, listening to music, as well as watching hockey (favorite team: Les Canadiens de Montréal) and soccer (favorite team: Ghana National Football Team). In addition, he always made time for check-in calls to family and friends near and far. Finally, he was a proud member of the Southgate Alliance Church. Even when physical ailments later in life prevented him from attending church regularly, his faith in Jesus never wavered.
Charles is survived by his loving family in Canada and Ghana.
Wake
7:00PM Friday September 20, 2019
Southminster-Steinhauer United Church
10740 19 Ave NW, Edmonton AB
Funeral Service
10:30AM Saturday September 21, 2019
Southgate Alliance Church
3916 107 Street NW, Edmonton AB
Reception
3:00PM Saturday September 21, 2019
Southminster-Steinhauer United Church
10740 19 Ave NW, Edmonton AB