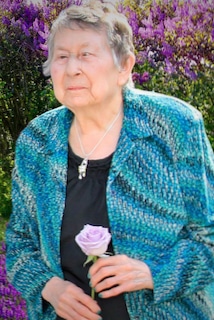 Christina (Chris) Mae Teige
It is with great sadness that we announce the passing of our mom, Christine "Chris" Teige (nee Schwehr). She passed away unexpectedly in her home on April 29, 2020 in Edmonton, Alberta at the age of 80.
Chris is survived by her loving daughters Amanda (Stacy) and Cindy; her three grandchildren Cody, Mason and Sabrina all of Edmonton, AB. She is also survived by her sisters Betty of Edmonton, AB; Bonnie of Lloydminster, SK; and brother Kenny of Dillon, SK. She is preceded in death by her brother Mervin (1991) and her husband Ed (2019).
Chris was born on May 13, 1939 in Loon Lake, Saskatchewan to Fred and Stella Schwehr. She graduated from The Ontario School for the Blind in her youth. Upon completion of her education, she moved back to Saskatoon, SK where she began working for the Canadian National Institute for the Blind (CNIB) at the University Hospital Canteen. Upon losing her total sight she moved from Saskatoon to Drumheller, AB for a few years, then made her final move to Edmonton, where she set down roots, married Ed Teige, and had two wonderful daughters. She was loved by all that knew her, always positive and grateful despite many challenges that she had faced. She was especially loved by her two guide dogs Dory and Ellie who were more than her security, they were her devoted friends.
A celebration of life will be held for Chris at a yet to be determined date. In memory of Chris, the family would appreciate any donations that you may be considering to the CNIB at https://bit.ly/2WuI1ov
Condolences may be sent to her daughters:
Amanda Bruneau
10243 – 90 St.
Edmonton, AB, T5H 1R9
Cindy Teige
B#8 11925-34 St.
Edmonton, AB, T5W 4V5