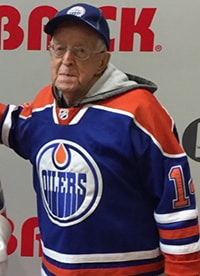 Clayton Alexander Agnew
Clayton Alexander Agnew of Edmonton passed away on September 16, 2019 in St. Albert, Alberta.
Clayton was born in Owen Sound Ontario to Herbert and Ruby Agnew on December 11, 1927. He married Florence on October 10, 1969 in Edmonton Alberta. His most noticeable careers were as an aircraft mechanic in the Royal Canadian Air Force and a transport truck driver with Sealy until his retirement.
Clayton is survived by: wife Florence; children: Kimberly Fedi, Darin (Sandra) Fedi, Darlene (Mike) Dalpe and Renee Agnew; grandchildren: Kyle (Jenelle), Jasen, Courtney (Ryan), Nicole, Britttney (Clayton), Nathan and Diamond (Sasha); great grandchildren: Christian, Carson, Evan, McKenna, Eric and Lyla.
Clayton was preceded in death by his parents Herbert and Ruby; siblings: Doreen, Wallace, Betty, Milton, Lois and Ross, as well as a grandson Reid.
A memorial will be held at the home of Clayton and Florence on Sunday September 22, 2019 at 2:00PM.