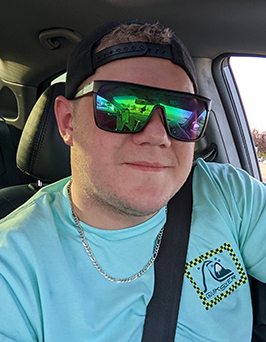 Cody Jessie James Tresierra
February 25, 1992
-
September 21, 2021
It is with great regret and sadness that we announce the passing of Cody Jessie James Tresierra, age 29: February 25, 1992 - September 21, 2021.
Cody was an amazing friend, brother, uncle, cousin, and dog dad. Cody's willingness to help his friends and family were one of his most admirable attributes. He had the incredible ability to make friends everywhere he went and for anyone that knew him personally knew they could always count on him for support, a good laugh, or a helping hand. The first thing you noticed about Cody (besides those blond crazy curls) was his big smile and contagious laughter. His fun loving energy was just as big as his heart.
Cody was born and raised in Quesnel, BC but spent the majority of his adult life in Edmonton, AB. As you may know, he was an extremely hard worker and made a career for himself as a heavy equipment operator. Despite Cody's very difficult upbringing, he remained focused, worked hard, and thrived in his career. For anyone that worked with Cody, I'm sure you would agree. He spent many days waking at early hours and working late nights to build the life he pictured for himself. Cody's dreams were to have a family someday and a home near the water where he could spend his days doing what he loved most which included, fishing, hunting and quadding
We would like to give recognition to Cody's pride and joy – his "Penny Girl". From the day he first got Penny, they were inseparable, and you could tell he loved her more than anything else in this world. Penny helped Cody in many ways, she gave him a sense of purpose and she was his protector. There's nothing he would not do for her. From taking her to work with him at times, to running errands, Cody never left the house without his Penny Girl. We will be sure that Penny will always have a piece of Cody with her.
Cody's Family and Friends would like to take this time to thank everyone who has reached out, offered condolences, or offered to help in anyway, it certainly did not go unnoticed. We will be planning a celebration of life for Cody later this year and details will be posted at a later time.
In lieu of flowers, we kindly ask you make a donation to YOUCAN Youth Services or the Zebra Centre