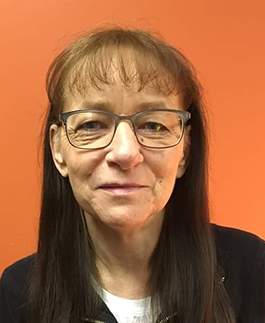 Colette Switzer
December 16, 1961
-
January 12, 2022
Colette Switzer was born and raised in Dodsand, Saskatchewan. She was the 5th of eight children, of Mel & Sheila Deschner; Tim(Laura) who predeceased her, Terry(Maureen), Bernard(Tara), Tracey(Gordon), Brian( Deanna)  Arnold(Tracey) & Trina(Dan). Colette had 24 nieces & nephews, along with many other relatives.
She moved to Edmonton in 1979 where she attended Grant McEwan Community College obtaining a diploma in the Accounting Program. She married in 1982 and was the mother to 1 son Ryan & 2 daughters Janelle and Adrianah. She started working at AMPIA in 1992 and held the position of Program Director/Office Manager until her passing.
Her love of accounting and bookkeeping was not only her career, but also her hobby. She kept books for several nonprofit companies,  along with a few for profit companies. Colette suffered from MS, but did not allow herself to be victimized by it, she was fiercely independent, strong and resilient through to the last of her too short days here on earth. Her kind heart, willingness to help others, gentle nature and the respect and admiration by others for the person she was, will be sorely missed.
From her employer... "Colette Switzer was the rock of AMPIA, a tiny person with a huge and positive impact on this organization and the broader industry it serves. Colette was also a great friend and will be missed by all of us who knew her. May her inspiring work continue to resonate throughout our industry for decades to come, and may her unique contribution and spirit be recognised and celebrated for as long as AMPIA exists".
She will be forever our hearts.
A celebration of life will occur on Saturday July 23, 2022 where there will be a gathering of those who wish to share the impact that Colette had upon them and to celebrate the person she was. The place and time to be determined from the responses.
Please RSVP to ColetteDay2022@gmail.com  We will share updates through email.