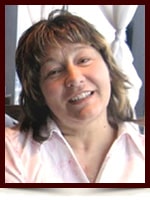 Dale Wareham
WAREHAM, Dale, age 50, of Fort McMurray, Alberta.
May you fly with the angels…
It is with great sadness that the family of Dale Wareham announces her peaceful passing on May 17th, 2016 in Edmonton, Alberta. Born in Carbonear, Newfoundland, she was the daughter of Gerald Wareham and Janie (King) and Ivan Westby.
Dale was a patient and devoted wife and mother who most enjoyed spending time with her boys and two precious grandchildren. She had an abundant love of dogs, especially her Black Lab, Shadow. Dale was a talented insulator of over 30 years and co-owner of a successful insulating business, D&D Insulation & Contracting.
She is survived by her spouse, Dean White; sons, Scott (Jolene), Joe (Rachel), and Jamie; grandson, Levi; granddaughters, Allie and Nevaeh; father, Gerald; mother, Janie (Ivan); sister, Tina (Norman); brother, Gerry; sister, Tracee; brother, Kent; father-in-law, Gerald; mother-in-law, Margaret; as well as numerous brothers-in-law, sisters-in-law, nieces, nephews, and cousins. She is predeceased by her twin sister, Dawn.
Visitation
Monday May 23, 2016 12:00PM - 2:00PM
Trinity Funeral Home Chapel
10530 116 Street, Edmonton AB
Memorial Service
Wednesday May 25, 2016 10:00AM
Trinity Funeral Home Chapel
10530 116 Street, Edmonton AB
Condolence cards may be sent to: 345 Still Creek Crescent, Sherwood Park, Alberta, T8H 0S7