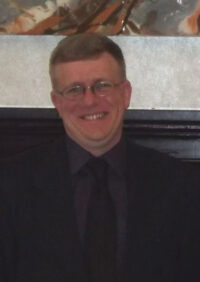 Daniel John Fraser
September 13, 1972
-
February 22, 2023
Daniel John Fraser, 50 years old, of Edmonton, passed away on February 22, 2023, after a long and difficult battle with metastatic pancreatic cancer.
Daniel was born on September 13, 1972 to John and Margaret Fraser.  After graduating high school, he went on to study computers and had a long career in the technology sector.
Daniel met his wife, Diane online in July of 2006 in a chat room and quickly became close friends, eventually marrying in March of 2012.  They had no children, but did have two adorable and well loved cats, Pepper and Pumpkin.
Daniel loved all things involving computers and never stopped learning.  He also enjoyed going to movies, spending nights in watching television, playing board games, and co-hosting a podcast with his wife.
Daniel was predeceased by his father, John, all of his grandparents, several aunts and uncles, his mother-in-law, Kay, and brothers-in-law Christopher and Joseph.  He is survived by his wife, Diane, mother, Margaret, sister, Heather, several aunts, uncles, and cousins, his father-in-law and step-mother-in-law, Warren and Patti, and brother-in-law, Tom.
A Celebration of Life service will be held at Our Savior Lutheran Church in Edmonton on Saturday, March 4th at 11am, with a luncheon to follow in the church fellowship hall.
In lieu of flowers, the family requests donations be made to Capital Care Norwood Hospice, where Daniel spent the end of his life with a wonderful group of care givers, or to Our Savior Lutheran Church, where he had a wonderful church family.