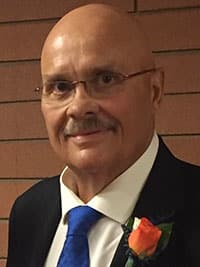 Darcy Leo Baert
On July 28 2020, Darcy Leo Baert of Vimy, Alberta died peacefully at the University of Alberta Hospital at the age of 70.
Darcy was born to Albert and Therese Baert in 1950, the youngest of four children. In 1971 Darcy married Val-Marie Joly and together raised three children, Rebecca, Robin and Daniel. He graduated from NAIT as a Journeyman Electrician in 1974 and acquired his Master Electrician Certificate in 1978. For a number of years he operated his own businesses as an electrical contractor. The fall of 1978 he decided to go into the hotel business and owned and operated the Donnelly Hotel and the Swan Hills Hotel, both in Alberta for the duration of eight years and then returned to electrical contracting once again. With an entrepreneurial spirit, in 2011, Darcy decided to purchase an ATM franchise in Arizona and operated the business from Mesa for five years. He eventually sold out and retired in 2016.
Darcy loved, loved, loved, hockey! He grew up learning and playing hockey most of his life, and when he wasn't playing, he was watching it on TV. His other passions throughout life were: spending time out at Island Lake boating and water skiing, playing baseball, snow skiing and socializing with his friends. He was known for his good sense of humor and his contagious laughter among his many friends in both Western Canada and the USA.
Darcy is preceded in death by his father, Albert, mother, Therese and two brothers, Raymond and Bobby along with a grandson, Brenden James Piasta. He is survived by his wife, Val-Marie, his 3 children, Rebecca, Robin, and Daniel and six grandchildren and a sister Carole along with a number of nieces and nephews.
A small private memorial will take place later with family and close friends.