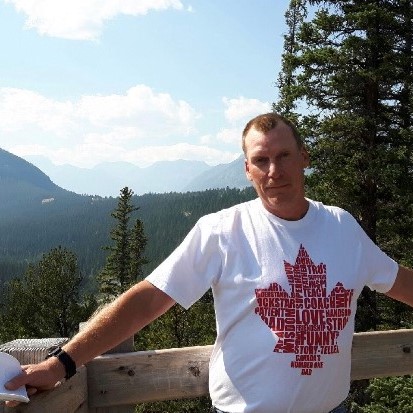 Darren Vilhelm Jensen
January 17, 1968 – September 20, 2020
It is with heavy hearts that the family of Darren Vilhelm Jensen announce his passing on September 20, 2020 at the age of 52. After courageously battling brain cancer and thanks to Darren's stubbornness, we witnessed him defy the odds on numerous occasions right up until the end, when he peacefully passed away at home surrounded by his loved ones.
Although Darren was always a believer, his relationship had drifted away from God in recent years. Shortly before his passing he accepted his mortality. He reached out to God and declared Jesus Christ as his Lord and Saviour.
Romans 10:9-10
"9 If you openly declare that Jesus is Lord and believe in your heart that God raised him from the dead, you will be saved. 10 For it is by believing in your heart that you are made right with God, and it is by openly declaring your faith that you are saved."
Darren was a beautiful person who will be forever loved and remembered by his daughter Brittany, mother Lois, auntie Rita, brother Allen, sister Valerie, nephew Keith, niece Ashley and many other family and friends. He was predeceased by his daughter Sarah Nicole Emma Jensen on January 4, 1990, his father Henry Vilhelm Jensen on August 19, 2001 and his brother Steven Paul Jensen on August 5, 2016.
Darren was an amazing father to his daughter, the love of his life, Brittany (aka Pumpkin). He had a huge passion for hockey, in particular the Edmonton Oilers. His sense of humor was second to none, he could find humor in most situations to lighten the mood and make hard times more bearable, even if he was a bit grumpy at times, it was part of his charm. He lived a simple life and took incredible pride in his work and his accomplishments. He was fiercely loyal and always a straight shooter. A true friend.
The Jensen family would like to extend a special thank you to the Angels from Palliative Care Team Pod E and to the wonderful staff at Rite Choice Pharmacy for their amazing support through Darren's final journey.
This Saturday we will be doing something Darren used to enjoy, we will have a drink around the fire in the backyard and toast a great man who was so loved.
In lieu of flowers, please donate to the Cross Cancer Institute.