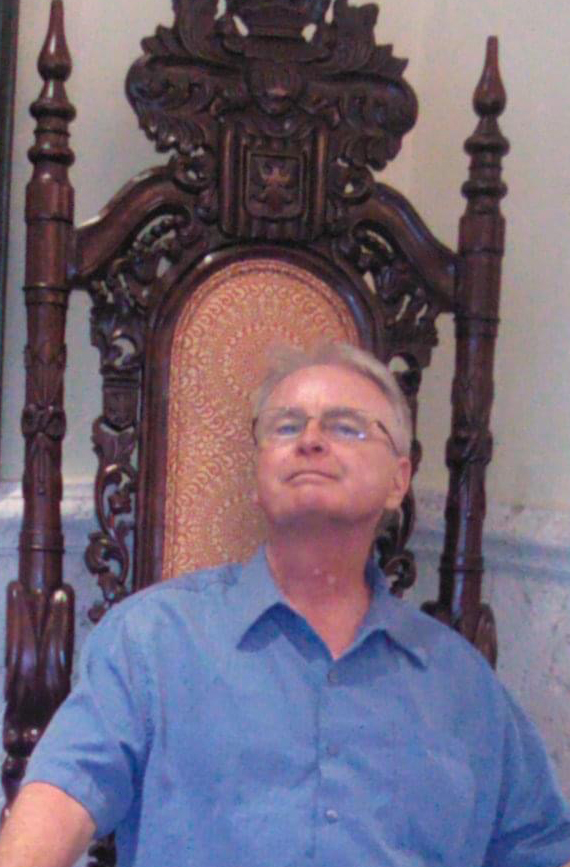 David Abbott
September 30, 1952
-
March 14, 2023
Lost to us at the Sturgeon General Hospital in St. Albert, Alberta, on March 14th, 2023, as a result of a COVID-related infection, a beloved husband, father, brother, uncle and friend; David was a bright light in the lives of all who knew him.
Born David William Arthur, to parents John and Grace (Stiff) Abbott in Toronto on September 30th, 1952, David grew up in the rough and tumble of Ontario Street, part of the Cabbage Town area. The third of nine children, David was by his own admission a restless, try anything-once rascal whose smile and charm got him out of many a tight corner. He would learn to avoid those tight corners, but the smile and easy charm would stay with him throughout his life. He was industrious from a young age, having had his first paper route when he was only six years old, following in his older brother, Michael's, footsteps and highly encouraged by their father. This would not be his last involvement in Toronto's famously competitive newspaper business.
David worked for the Toronto Sun from its inception in 1971, originally running pages from the old Eclipse White Wear Company Building at 322 King Street West to Inland Publishing in Mississauga, where the paper was first printed, and later joining the Circulation department. He loved everything about the newspaper business and took pride in being part of "the little paper that grew"; developing delivery routes, writing the carrier handbook, and organizing contests for carriers to win prizes for increasing their routes. He always said he wanted them to learn to help themselves, to do better and be better. He was invited to go to Edmonton to help start the company's second newspaper in the spring of 1978, but at the time he was dealing with serious health issues (which would soon lead to a kidney transplant) and had to decline, leaving the newspaper business for a short time. As it turned out, staying in Toronto might have been fate.
David had first met Lynn Roberts when she was fourteen and he seventeen, but it wasn't until a decade later that they began dating (he later joked it had taken him 10 years to work up the courage to ask out the beautiful brunette) in June 1979, beginning a remarkable four-decade plus love story. They married three years later, in 1982. David was a wonderful (step) father to young Joey Clarke and taught him much about the importance of truth, dedication, and perseverance. With his new family in tow, David finally made the move to the Edmonton Sun in the summer of 1979, or almost. The Abbotts drove for days across the country for David to take up a senior position in the fledgling newspaper's circulation department, but when they arrived the paper's future was in doubt and the manager who had made him the job offer had been fired. He was offered an entry-level position, which he politely declined. Such a setback might have floored a lesser mortal, but not David. This was Edmonton in the booming 70's and he decided the oilfield service business offered better opportunities.
He found a job in shipping and receiving at Wagner Oilfield Equipment, and with his personality and work ethic began a predictable and meteoric rise to become one of Wagner's most successful salesmen. A few years later, with some of his colleagues, he made the move to Capital Oilfield Equipment Ltd. where he built the company up to its eventual sale to Columbia Oilfield Supply. Moving on to Phoenix Energy Services and through the evolution of company sales and mergers, he eventually became sales manager for National Oilwell Varco's Canada and Alaska divisions, a position he held until he retired in 2009 to move back to Ontario to be closer to his large, much loved family. Houston-based National Oilwell Varco offered him any job he wanted, anywhere in the world, to stay, but as he said at the time his body was telling him to slow down and enjoy life. Which was precisely what David and Lynn did, retiring to a spacious property in the Kawartha Lakes region. They entertained lots and travelled often (frequently in the company of their good friends Paul and Rene Stanway) to England, Portugal and Mexico. He even got to re-indulge his strange fascination for unreliable Italian motorcycles. Eventually, David and Lynn found they missed Alberta, Lynn's sister and family particularly, and they returned to the Edmonton area in 2022.
David's remarkable life is testament to his deep belief in hard work, loyalty and the importance of family and friends. He was generous to a fault and brought light and laughter into the lives of all who knew him. He was a very special part of his entire families lives and he was often teased for being "The Favourite" receiving perceived special treatment and favours by their mother.
He is survived by his beloved wife and best friend Lynn, cherished stepson Joe Clarke, much loved siblings Michael Abbott, Lynda (Brian) Auld, Ross Abbott, Ruth Abbott, Janice (Joe) Duggan, Judy (Doug) Daniels and Nancy (Jeff) Caldwell, and his many nieces, nephews (and great-nieces and great-nephews) who brought so much pride, wonder and joy into his life. David was also exceptionally close to his sister-in-law Laura (Brad) Holland and her entire family acting as more of a father figure in her life and as much more than an uncle to her children and grandchildren. He will be greatly missed by his many friends in Alberta and Ontario, and most especially by the Stanway family in Calgary – Paul, Rene, Nicole and Scott –who loved him dearly. He was pre-deceased by parents John and Grace, and sister Susan.
If friends so desire, donations can be made directly to the Kidney Foundation of Canada
Do not go gentle into that good night,
Old age should burn and rave at close of day;
Rage, rage against the dying of the light.
Dylan Thomas