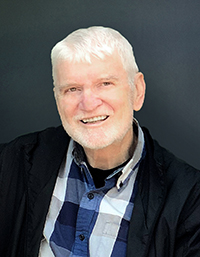 David H. Klippenstein
1944 - 2020
With great sadness the family announces the death of David Klippenstein on January 30, 2020. He will be remembered with love by his wife of 45 years, Janice, his son Jonathan (Claudia), daughter Alison (Darryl) and cherished granddaughter Zoey. He is survived by his brother Sam (Judy) and his sister Susan (Peter), many cousins, nephews and nieces and other relatives in Canada and the US. He was predeceased by his parents Bernard and Sara Klippenstein and his brother Timothy.  He will be dearly missed by his family, friends and colleagues.
David grew up in rural southern Manitoba and remained committed to his roots there.   He attended one-room schools in his younger years.  David graduated with a BA in Geography from the University of Manitoba. He subsequently enrolled in graduate studies at the University of Alberta in 1970 where he met Janice and they both completed Masters degrees in the Department of Geography. David's career as a planner was a natural path for him.  He had a lifelong fascination with maps, acquiring his first provincial road map of Manitoba at the age of seven. The map collection grew and diversified over the years. A road trip honeymoon starting in 1975, after David and Janice were married in England, provided a bonanza of maps from the UK, Scandinavia, Europe, the Middle East and South Asia. It was a classic Seventies trip in a time of relative peace and had a profound influence throughout their married life. Travel, a deep curiosity and respect for other cultures of the world and his heritage of Mennonite migrations and settlements were all woven into a quest to understand how we live, survive and thrive in the world.
Music was also an integral part of David's life, from the church music of his youth, through two years studying music at Brandon College and on to acquiring an eclectic collection that was enjoyed by all the family. Live performances and concerts in Edmonton and pub music with friends on Vancouver Island were all keenly appreciated. He sang, played a number of instruments and refinished a beautiful old upright piano which was only traded in fifteen years ago for an electronic model. The latter with its multiple switches and knobs proved irresistible to Zoey who loved to play piano with him.
David was committed to his role in the planning profession, working for municipal and provincial governments in his early career. He joined consulting firm UMA (later AECOM) in Saskatoon in 1979 and moved back to Edmonton in 1992. He became Director of Planning in both offices.  His portfolio included government departments, developers and many projects with northern communities, Metis groups and First Nations bands. He took great pleasure in his many trips north, meeting the people and evaluating the land opportunities. After he retired from AECOM he established his own planning consultancy which he ran for ten years.
David approached all planning needs in a thoughtful, responsible and ethical way. Over the years he served on the executive of professional planning associations in Saskatchewan and Alberta, and as a director on the Canadian Institute of Planners. In 2017 he received an Award for Outstanding Contribution to the Profession from the Alberta Professional Planners Institute.
David's immediate family was much-loved and while he was modest about his own achievements, he was very proud of and followed keenly the progress of his children and their spouses. There were many lively conversations around the family dinner table, especially in recent years. He also tried to convert everyone into as ardent a supporter of the Winnipeg Jets and Blue Bombers as he was, but with notably limited success. Perhaps his greatest joy in the past five years was in becoming a grandfather. Zoey gave him with endless hours of pleasure and great happiness as she grew from newborn baby into the kindergartener who dearly loved her Grandpa.
Over the last five years we have received much skill and kindness from those we encountered on the journey through the health care system. We would especially like to thank surgeon Dr. Schiller, of the Royal Alex and oncologist Dr. Zhu, of the Cross Cancer Institute. That David survived more than five years after his initial diagnosis of pancreatic cancer made him one of the fortunate few and we were grateful for every day. He bore his illness with fortitude and a determination to carry on as long as possible. For the nurses and doctors of Unit 43, the palliative care unit at the Grey Nuns Hospital, we are so grateful for your gentle care and compassion for David and the family members with him at the end of his life.
A celebration of David's life will be held at 2pm February 22 at the Faculty Club, University of Alberta. In lieu of flowers, donations may be made to Pancreatic Cancer Canada or a charity of your choice.