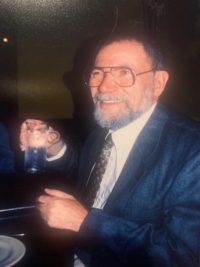 David Isaac Kieselhof
It is with great sadness that we announce the passing of our beloved Mr. David Issac Kieselhof.  Isaac, aged 84 years young, passed away in the early morning hours of Thursday March 4th, 2021. A late-stage Cancer diagnosis left him in highly undeserved pain in his last weeks of life. We were happy to, at the very least, be able to be by his side to witness his strength and unwavering kindness, and to help comfort and ease the days as best we could.
Isaac was an incredibly kind, smart, and thoughtful gentleman. He immigrated to Edmonton in 1977 with his wife Maria. They both worked hard to build a beautiful new life in Canada. Isaac was an Architect, and he loved his family and the city of Edmonton dearly. Isaac helped to shape the city and surrounding towns as we know them today--- Though he is no longer with us, his architectural work lives on, and can be seen in dozens of completed projects across Alberta.
Isaac is survived by his lovely life partner Maria, who is the mother of his two children; David & Esther. He is further survived by his brothers Alex & Mikhail, and his sister Elza, along with many other beloved members of the Kiselgof & Ostrovskiy families.
Isaac will be greatly missed. We hope he is well-remembered by the many people whose lives he touched, both on a professional and on a personal level. Isaac will live on in our hearts eternally, and our many wonderful memories of him will bring smiles to our faces for years to come.
Rest easy Isaac. We love you always.