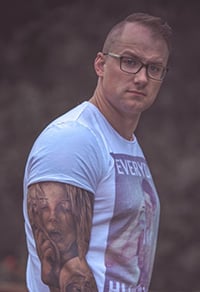 David Matthew Semeniuk
It is with sad and heavy hearts, we announce the sudden passing of our beloved son, brother, and grandson David Matthew Semeniuk on January 14, 2019. David was born at the Edmonton General Hospital on September 28, 1983.
He is mourned by his immediate family as well as a large group of very close friends who provided immense love and support to David and his family in this time of need. We cannot thank them enough. Left to cherish his memory are David's father, Doug Semeniuk (Erna Malcolm), his mother, Diane Waluk, brothers and best friends Michael Semeniuk (Nicole) and Doug Bedard (Jen, Willow and Mike), David's loving grandparents Nestor (Zeke) & Lee Waluk, aunts, uncles, cousins and many dear friends.
David was predeceased by his loving baba, Anne Semeniuk in 2016, his uncle Walter, two cousins and an aunt.
The family would like to send a special thank you to the nursing staff and Doctors at the Royal Alex Hospital, Cardiac Care Unit (CCU).
A celebration of life will be held to honor our memories of David, with friends and family on Friday, February 1, 2019 at the Kingsway Legion, 14339-50 Street at 2:00 p.m.